Yaki udon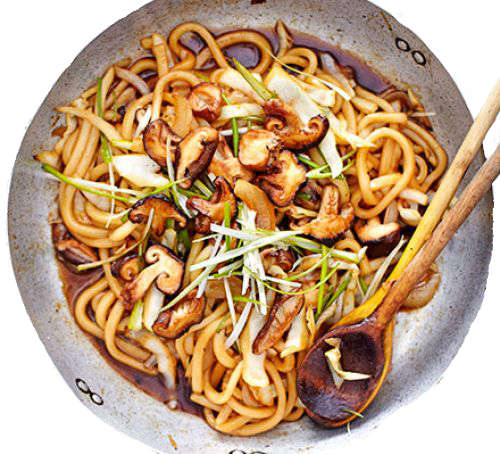 Serves 2
Yaki udon are thick noodles with mushrooms and cabbage, it is low fat and low in calories also perfect for a vegetarian dinner
Ingredients 
250g dried udon noodles
2 tbsp sesame oil
1 onion (thickly sliced)
1/4 head white cabbage (roughly sliced)
10 shiitake mushrooms
4 spring onions (finely sliced)
For the sauce:
4 tbsp mirin
2 tbsp caster sugar
1 tbsp worcestershire sauce or a vegetarian alternative
Method
Boil some water in a large saucepan. Add 250ml cold water and the udon noodles. If using frozen or fresh noodles, cook for 2 minutes, dried will take longer, around 5-6 minutes. Drain and leave in the colander.
Heat 1 tbsp of the oil, add the onion and cabbage and fry quickly for 5 minutes until softened. Add the mushrooms and some spring onions, and fry quickly for 1 more minute. Pour in the remaining sesame oil and the noodles. If using cold noodles, let them heat through before adding the ingredients for the sauce – otherwise tip in straight away and keep stir-frying until sticky and piping hot. Sprinkle with the remaining spring onions.