Vegetarian wellington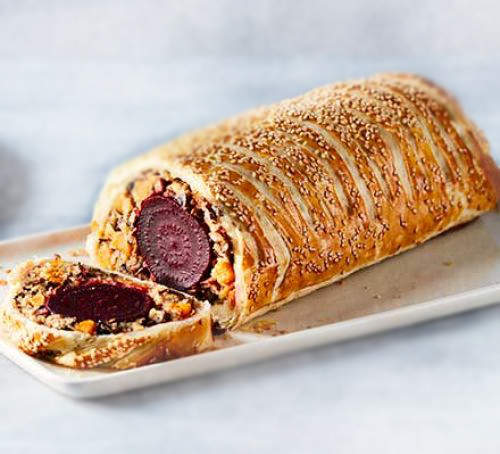 Serves 8 
Ingredients:
500g butternut squash (peeled and cut into 1cm dice)
2 tbsp olive oil
2 shallots (finely chopped)
small bunch of sage ( leaves finely chopped)
500g closed cup mushrooms (chopped)
3 garlic cloves (crushed)
150ml double cream
200g fresh breadcrumbs
150g cooked chestnuts (chopped)
1/2 tsp ground mace
whole nutmeg (for grating)
500g block puff pastry
plain flour to dust
6-8 cooked beetroot
1 egg (beaten to glaze)
1 tbsp sesame seeds or poppy seeds (to decorate)
Method:
Heat the oven to 200C/180C fan/gas 6. Toss the squash with 1 tbsp oil, half the sage and some seasoning. tip onto a baking tray and roast for 25 minutes until tender.
Meanwhile, heat 1 tbsp oil in a large frying pan and fry the shallots for 10 minutes until tender. Add the mushrooms and fry for 15 minutes until softened and the liquid has evaporated.
Add the garlic and remaining sage to the mushrooms, fry for a minute. Then add the double cream. Stir until it coats the mushrooms and no liquid remains. Fold in the breadcrumbs, mace, chestnuts and roast squash. Season everything well, adding a grating of nutmeg. Leave to cool before assembling the wellington.
Roll the pastry out on a floured work surface to a 35 x 45cm rectangle. Transfer to a large parchment-lined baking sheet with one of the long lengths of the pastry facing towards you. Spoon the mushroom and squash mixture down the length of the pastry, leaving a 7cm border along the top and 1cm on both sides. Brush all the exposed pastry with beaten egg.
Put the beetroots in a line down the middle of the filling – they should be touching. Fold the filling-covered, long length of the pastry over the beets, using the paper to help you. Roll up and trim the pastry with a knife when it's overlapping by 1cm.
Place the wellington seal-side down, and pinch the ends to seal. Egg wash the whole thing and use a fork or blunt cutlery knife to score the pastry in a pretty pattern. Chill until for at least 30 minutes, or up to 24 hours.
Heat the oven to 200C/180C fan/gas 6. Brush the wellington with more beaten egg, sprinkle with the sesame or poppy seeds and bake for 45-50 minutes until golden brown and puffed up. Leave to rest for 10 minutes before carving into chunky slices with a sharp knife to serve.