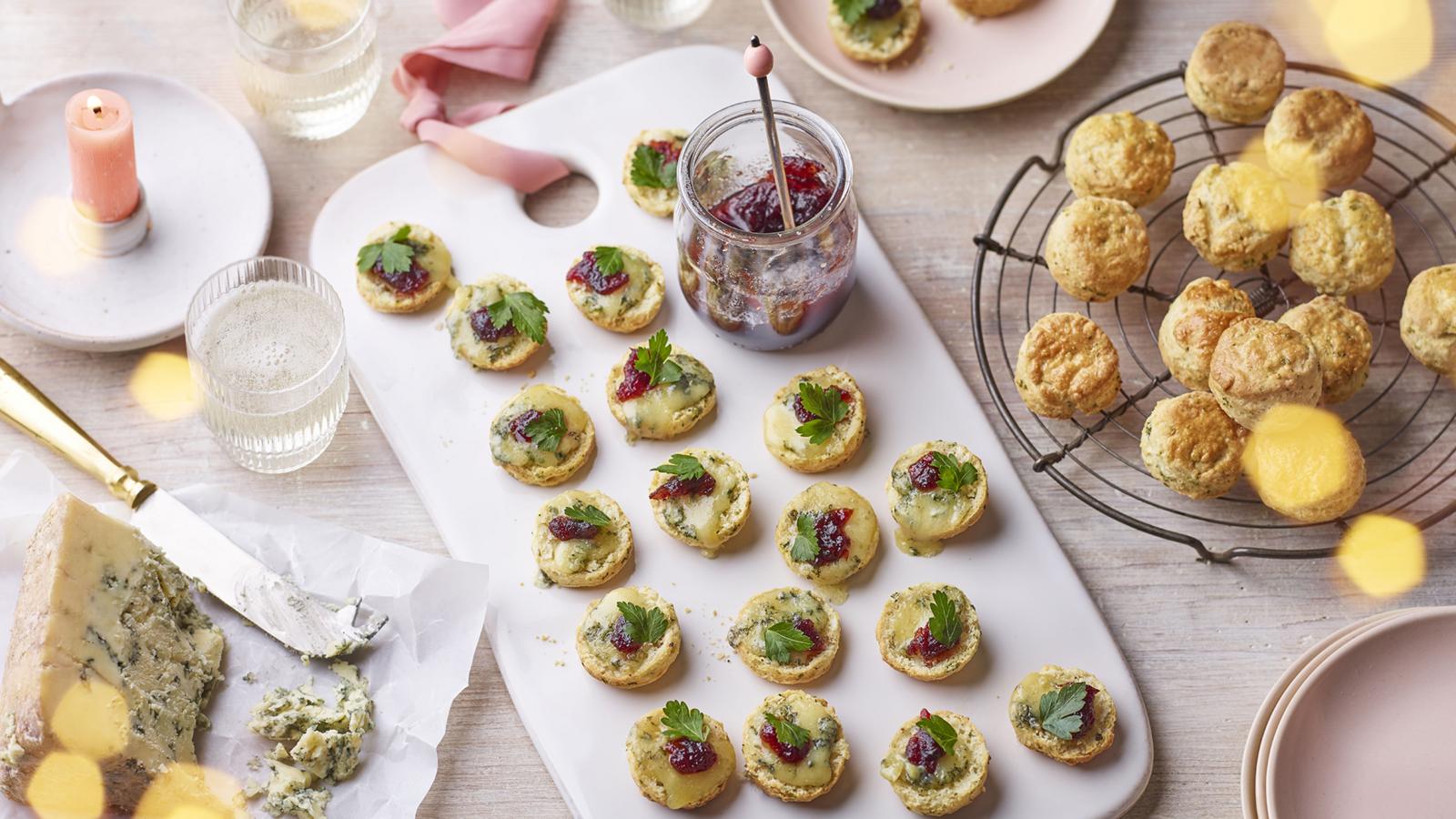 This is made possible by BBC Foods!
Ingredients
125g/4½oz self-raising flour, plus extra for dusting
½ tsp baking powder
25g/1oz butter, cubed and softened
50g/1¾oz Parmesan, finely grated
1 tsp mustard powder
1 tbsp sage, finely chopped
2 tbsp milk
1 free-range egg, beaten, plus 1 free-range egg, beaten, to glaze
150g/5½oz Stilton, grated
1 jar cranberry sauce
70 small fresh flatleaf parsley leaves
salt and freshly ground black pepper
Method
Before starting this, make sure to preheat the oven to 200C/180C Fan/Gas 6 and line a baking tray with baking paper.
Put the flour, baking powder and butter in a bowl.

Rub in the butter using your fingertips until the mixture looks like breadcrumbs.

Stir in the Parmesan, mustard powder and sage and season with salt and pepper.

Mix the milk with the egg in a small bowl or jug. Pour into the breadcrumb mixture and bring the dough together with your hands. Gently knead into a soft dough.

Roll out on a lightly floured work surface until it is about 1–1.5cm/½–¾in thick. Cut out scones using a 3cm/1¼in round cutter.

You may need to gather the cuttings and re-roll to make 35 scones.

Place on the baking tray and brush the tops with the egg glaze. Bake for about 8 minutes or until pale golden and risen.

Leave to cool on a wire rack.

Slice each scone in half widthways and place back on the baking tray. Top each half with some of the Stilton.

Return to the oven for about 2–3 minutes to melt slightly. Top each one with a small blob of cranberry sauce and a single parsley leaf.

Serve warm.
Banner and Image Credit: BBC