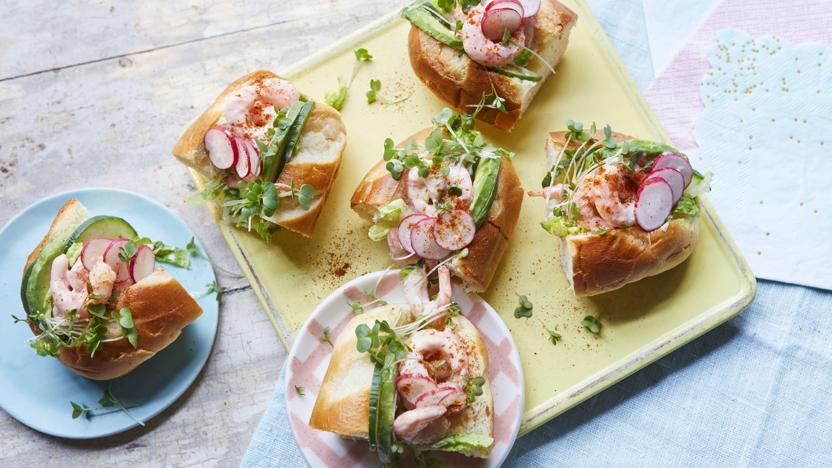 This recipe is made possible by BBC!
Ingredients
250g/9oz North Atlantic prawns, peeled and cooked
3–4 tbsp mayonnaise
1 tbsp tomato ketchup
dash Tabasco
1–2 tsp Worcestershire sauce
1–2 tsp lemon juice
good pinch paprika, to garnish
salt and freshly ground black pepper
To serve
1 Little Gem lettuce, shredded into 1cm/½in strips
8 small brioche finger rolls, each halved and then cut in half on the top but not all the way through
1 avocado, peeled, stone removed, thinly sliced
10cm/4in piece cucumber, cut in half lengthways and sliced thinly
4 radishes, trimmed and finely sliced
mustard, any type, to garnish (optional)
cress or micro herbs, to garnish (optional)
Method
Pat the prawns dry on kitchen paper and tip into a bowl. Add the mayonnaise, ketchup, Tabasco, Worcestershire sauce and lemon juice.
Season with salt and pepper and mix well to combine.
Arrange some lettuce in the bottom of each halved roll and add the avocado and cucumber on one side.
Spoon the prawn cocktail mixture on the other side and garnish with a little paprika. Scatter over the radish and garnish with mustard and cress or micro herbs.
Serve immediately.
Banner and Image Credit: BBC