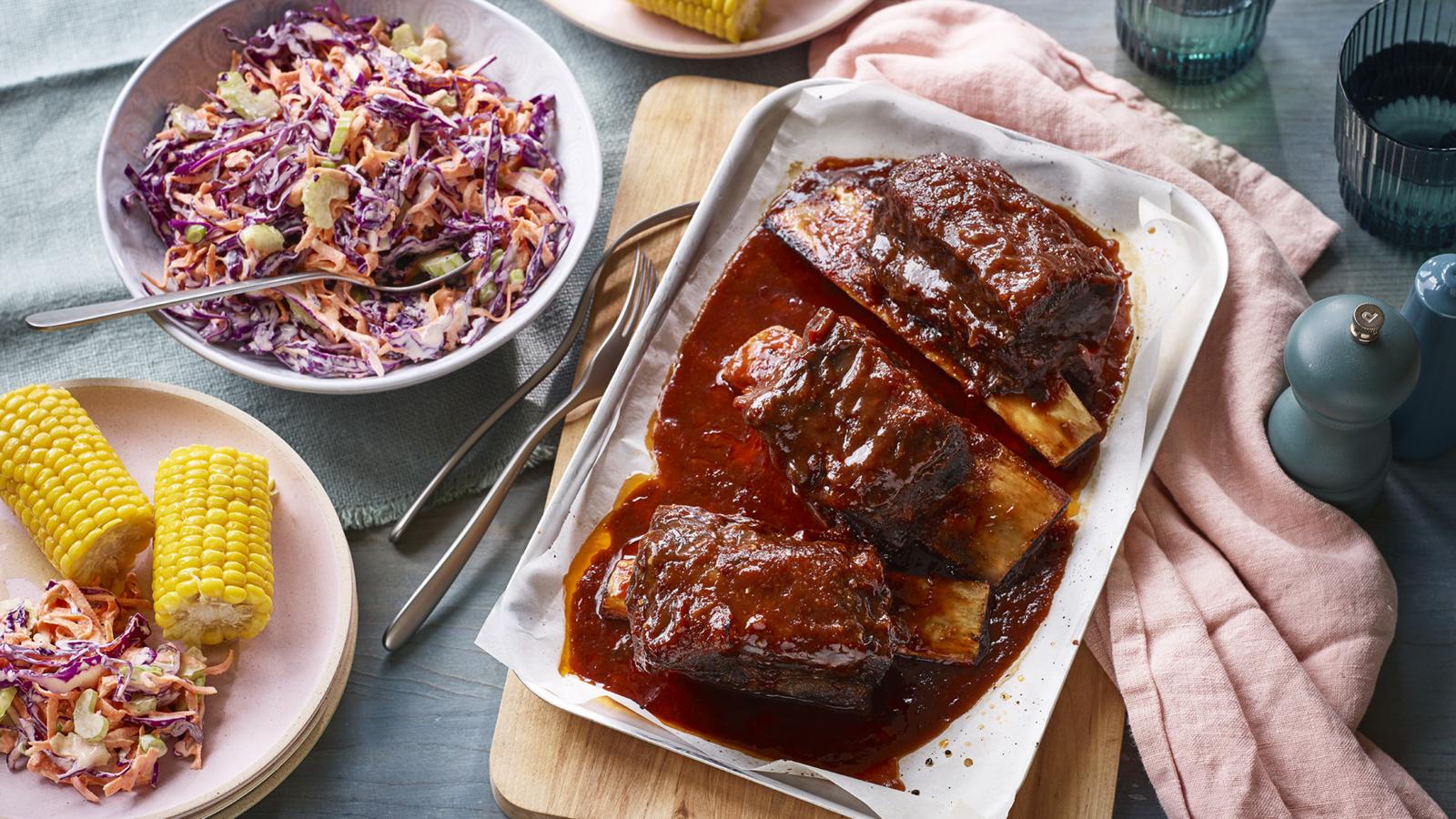 This is made possible by BBC Foods!
Ingredients
For the marinade
100ml/3½fl oz ketchup
5 tbsp apple juice
2 tbsp Worcestershire sauce
1 tbsp white wine vinegar
4 tbsp maple syrup
2 tbsp soy sauce
4 garlic cloves, crushed
pinch dried chilli flakes
1.5kg/3lb 5oz beef short ribs
For the coleslaw
8 tbsp mayonnaise
½ lemon, juice only
1 tbsp Dijon mustard
½ garlic clove, crushed
½ red cabbage, finely shredded
2 large carrots, peeled and coarsely grated
2 celery sticks, finely sliced
2 spring onions, finely sliced
salt and freshly ground black pepper
Method
To make the marinade, measure all the ingredients into a shallow dish and mix well.

Add the short ribs and mix well to coat.

Leave for 2 hours or overnight in the fridge.

Preheat the oven to 150C/130C Fan/Gas 2.

Transfer the ribs and the marinade into a deep ovenproof saucepan or flameproof casserole.

Add 200ml water so only the bones are sticking above the liquid.

Cover with a lid and bring up to the boil.

Transfer to the oven for about 3½ hours.

Remove from the oven and leave to cool in the pan for about an hour.

Line a small roasting tin with baking paper.

Remove the ribs from the marinade, give them a shake and sit them on the paper in the tin.

Skim the fat from the marinade in the pan and discard.

Heat the marinade over a high heat until the volume of liquid has reduced by half.

Pour the reduced marinade over the ribs.

Heat the oven to 200C/180C Fan/Gas 6 and roast the ribs for about 15 minutes.

Meanwhile, to make the coleslaw, measure the mayonnaise, lemon juice, mustard and garlic into a large bowl.

Mix and season well with salt and pepper.

Add the cabbage, carrots, celery and spring onions and toss to coat everything well.

Spoon into a serving bowl.

Serve the sticky ribs alongside the coleslaw with jacket potatoes and corn on the cob.
Banner and Image Credit: BBC