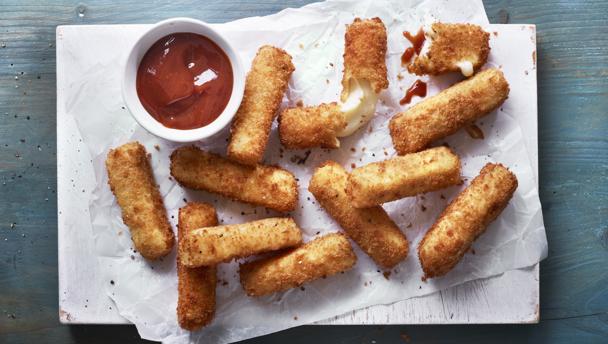 This is made possible by BBC Foods!
Ingredients
400g block mozzarella cucina
2 tbsp plain flour
1 tsp garlic granules
1 large free-range egg
40g/1½oz panko breadcrumbs
olive oil cooking spray
salt and freshly ground black pepper
Method
Cut the mozzarella into strips, and pat dry using kitchen paper.

In a dish, shallow dish, mix together the flour and the garlic granules. In another dish, beat the egg with a certain amount of salt and pepper. Spread the breadcrumbs in a third dish.

Roll the mozzarella strips in flour, then in egg, then in flour and egg again.

Make sure each piece is totally covered in flour each time, any gaps will cause the mozzarella sticks to leak into the air fryer.

Coat well in the panko breadcrumbs.

Freeze for at least 30 minutes until solid.

Spray the bottom of the air fryer basket with olive oil spray and arrange a single layer of mozzarella sticks in the bottom.

Spray the top of the mozzarella sticks with oil before air-frying for 10 minutes at 200C. Repeat until all the mozzarella sticks are cooked.
Banner and Image Credit: BBC