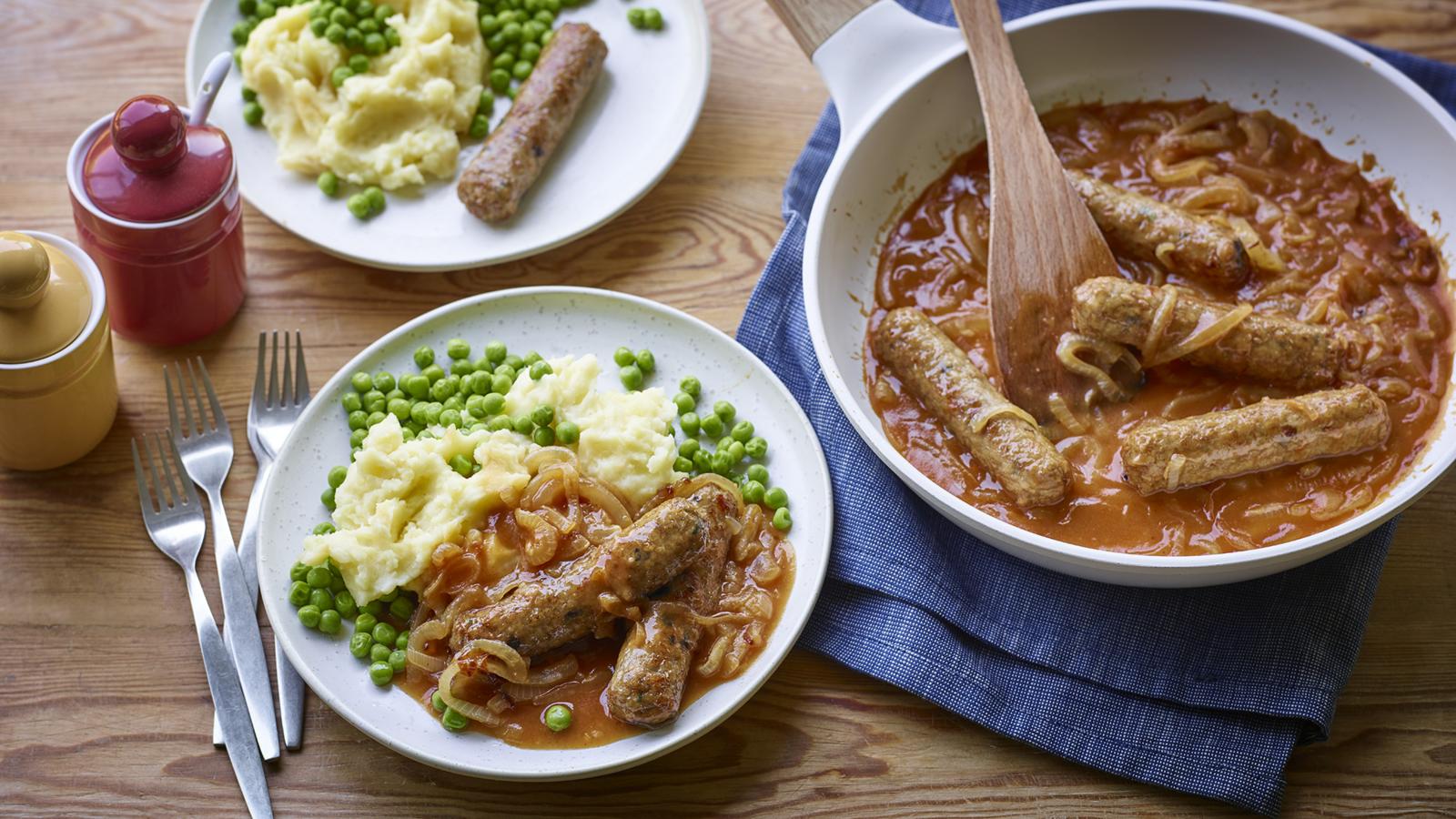 This is made possible by BBC Foods!
Ingredients
For the mash
800g/1lb 12oz potatoes, peeled, halved and cut into 1cm/½in slices
100ml/3½fl oz milk
20g/¾oz butter
300g/10½oz frozen peas
For the sausages and gravy
2 tbsp vegetable oil
6–8 frozen vegetarian sausages (see recipe tip)
1 medium onion, thinly sliced
1 tbsp plain flour
300ml/½ pint vegetable stock, made with 1 stock cube
1 tbsp ketchup
2 tsp soy sauce (preferably dark)
½ tsp dried mixed herbs
ground black pepper
Method
To make the mashed potatoes, put the sliced potatoes in a large saucepan and cover with water until they're submerged by 1cm.

Cover with a lid and bring to the boil. Reduce the heat and simmer for 8–10 minutes.

You can test by piercing a couple of the potato slices with the tip of a knife; if it slides in easily, the potatoes are ready.

Meanwhile, heat a tablespoon of the oil in a large non-stick frying pan over a medium heat.

Add the sausages and cook for 3 minutes, turning regularly. Add the remaining oil and onion and continue cooking for a further 10 minutes.

Add a little extra oil if needed.

Transfer the sausages to a plate and sprinkle the flour over the onion. Stir in the flour then gradually add the stock in a thin stream.

Add the ketchup, soy sauce and mixed herbs.

Season with ground black pepper and bring to a simmer.

Return the sausages to the pan and simmer gently for 3 minutes.

Drain the potatoes well using a colander or large sieve and return to the pan

. Mash with a potato masher until smooth then add the milk and butter and mash together over a low heat until hot and creamy.

Season with salt and pepper to taste.

Cook the peas in a small pan of boiling water or in the microwave for 2–4 minutes or until hot.

Serve the sausages and gravy with the mash and peas.
Banner and Image Credit: BBC