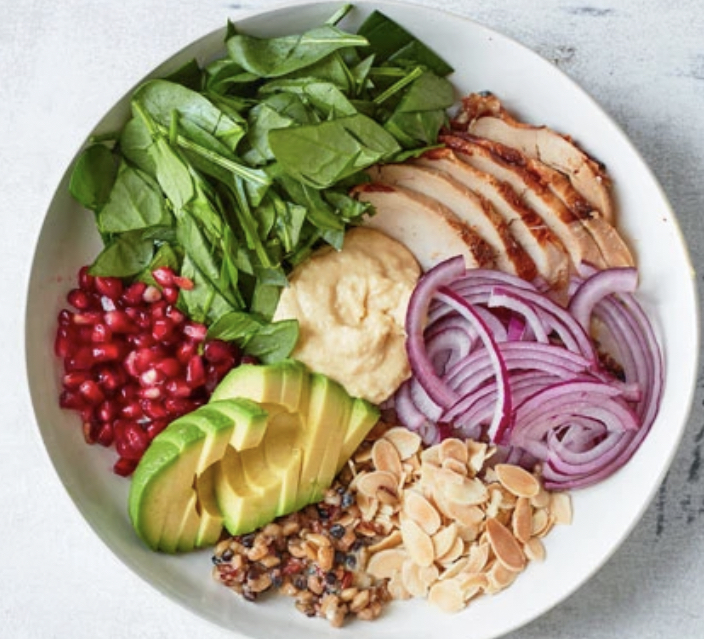 This chicken and hummus bowl is perfect for  an at home healthy lunch or every a smaller healthy dinner. 
This recipe is courtesy of BBC GoodFood, and is three of your five a day – all in one meal.

Oh, and if all this wasn't good enough – it only takes 10 minutes to make!

Ingredients
200g hummus
1 small lemon, which has been zested and juiced
200g pouch cooked mixed grains (we used Merchant Gourmet red rice & quinoa)
150g roughly chopped baby spinach
1 small halved and sliced avocado
1 cooked chicken breast, sliced at an angle
100g pomegranate seeds
½ red onion, finely sliced
2 tbsp toasted almonds
Method
Mix 2 tbsp of the hummus with half the lemon juice, the lemon zest and enough water to make a drizzly dressing. Squeeze the grain pouch to separate the grains, and then divide between two bowls before tossing the dressing in. Top each bowl with a handful of the spinach afterwards.
Squeeze the remaining lemon juice over the avocado halves, then add one half to each bowl. Divide the chicken, pomegranate seeds, onion, almonds and remaining hummus between the two bowls and gently mix everything together just before eating.