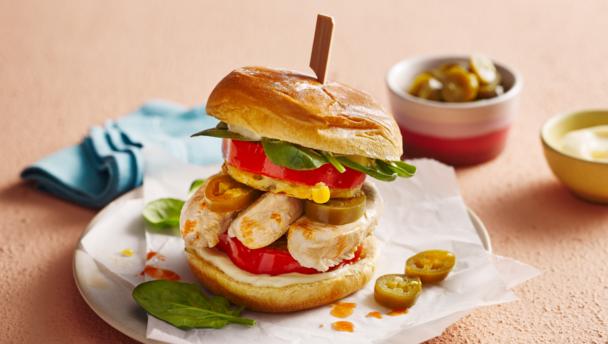 This recipe is courtesy of BBC GoodFood.
Ingredients
250g/9oz chicken mini fillets
215g jar sliced green jalapeños
198g tin sweetcorn
1½ tsp olive oil
For the fritters
1 free-range egg
25g/1oz plain flour
25g/1oz mature cheddar, grated
1 tbsp finely snipped fresh chives
2 spring onions, finely chopped
1½ tsp olive oil
1 red pepper, sliced into 4 thick rings
fine sea salt and freshly ground black pepper
To serve
2 burger buns, sliced
1 tbsp mayonnaise
handful baby spinach leaves
Tabasco
Method
Put the chicken into a bowl and pour over the liquid from the jar of jalapeños. Pour over the juice from the can of sweetcorn. Cover the chicken and refrigerate for 8 hours.
When you're ready to cook, drain and discard the marinade from the chicken. Heat the olive oil in a large frying pan over medium heat. Once the oil is hot, add the chicken and fry for 4–5 minutes on each side. Allowing the chicken to get Golden and cooked right through.
While that is happening, make the fritter batter. Put the egg into a mixing bowl and add 2 tablespoons of water and whisk to combine, then whisk in the flour to a thick paste. Reserved chopped jalapeños and a pinch of salt and pepper.
Wipe the chicken pan with kitchen paper, then return to the heat and pour in the olive oil. Put the pepper rings into the pan and fill each one. Fry for 3 minutes, flip, and fry for a further 3 minutes
To make,  spread the buns with mayo, then stack them high with the fritters, chicken, spinach, Tabasco, and some of the leftover jalapeños.
Banner and Image Credit: BBC