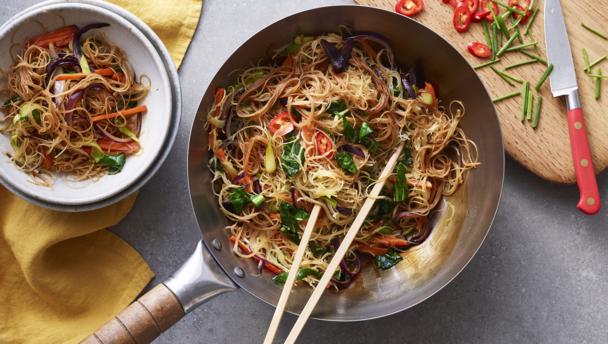 This recipe is courtesy of BBC GoodFood.
Ingredients
100g/3½oz dried rice vermicelli noodles
½ medium red onion, finely sliced
1 large carrot, peeled and cut into thin matchsticks
1 small leek, or 3 spring onions, trimmed and cut into thin matchsticks
3 leaves Chinese leaf, green cabbage, or spring greens, trimmed and thinly shredded
1 tbsp sunflower or vegetable oil
fresh chives or sliced spring onions and sliced red chili, to serve
For the curry paste
2 tsp medium curry powder
¼–½ tsp hot chili powder, to taste
1 tbsp light soy sauce
½ tsp dark soy sauce
½ tsp sesame oil
Method
Put the noodles in a large bowl and cover them with just-boiled water. Leave to stand for 2 minutes, then drain and spread out onto a clean tea towel. Pat and press until as dry as possible, then transfer to a bowl.

Mix all the ingredients for the curry paste in a small bowl until thoroughly combined.

Place the vegetables in a semi-circle on a plate. Arrange the bowl of noodles and the paste below to give a 'wheel' of ingredients.

Heat ½ tbsp of the oil in a wok over very high heat. Add the red onion and stir-fry for 10–15 seconds, then add the carrot. Add the leek and stir-fry for a further 10 seconds before adding a little more oil and the leaves. Stir-fry for 10–15 seconds more. Move all the vegetables to the sides of the wok.

Add another teaspoon of oil, wait for the wok to be smoking hot, then toss the noodles in the middle.
Fry for a few seconds

Finally, add the curry paste and stir-fry with the noodles and vegetables for 20–30 seconds more. Divide between two warmed bowls, scatter over chives or spring onions and red chili to serve.
Banner and Image Credit: BBC