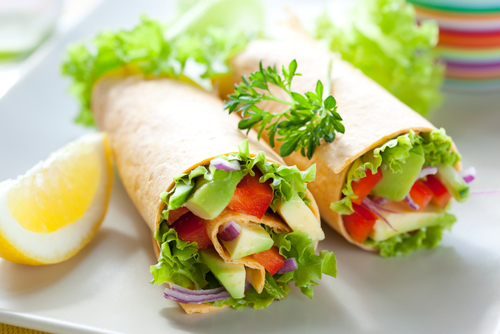 These wraps are not only easy to make but they're vegetarian! so everyone can enjoy these breakfast wraps in the morning!  Wrap in foil to eat on the day, or see the Recipe Tip for freezing instructions.
Ingredients!
45g/1½oz pepper (about half a pepper), sliced
2 mushrooms, sliced
80g/2¾oz spinach
pinch ground paprika
2 free-range eggs
freshly ground black pepper
1 tsp freshly chopped parsley
1 tortilla wrap
Method:
Heat a frying pan, but make sure it's non-stick! and add the peppers and mushrooms, fry for a few minutes until softened, then add the spinach and paprika. (If your pan tends to stick you will need to use a little oil or cooking spray.)

Crack in the two free-range eggs and cook to allow the eggs to scramble with the vegetables all in one pan. Add plenty of black pepper and parsley.

Place the tortilla on a plate and make sure it's microwave safe and heat on a high setting for 10 seconds.

To serve, spoon the egg and vegetable mixture onto the tortilla, fold up one end, then fold in the sides.
Recipe Tips
These can be frozen in a ziplock bag (wrap in the baking paper if you have a few in one bag to stop them sticking). Allow to defrost overnight and reheat in the oven or microwave in the morning (if using a microwave, take care not to overcook the wraps when reheating as it will make the eggs rubbery and the wraps soggy, they just need to be nice and warm, not completely cooked through again).
banner and image credits: Kolpakova Svetlana