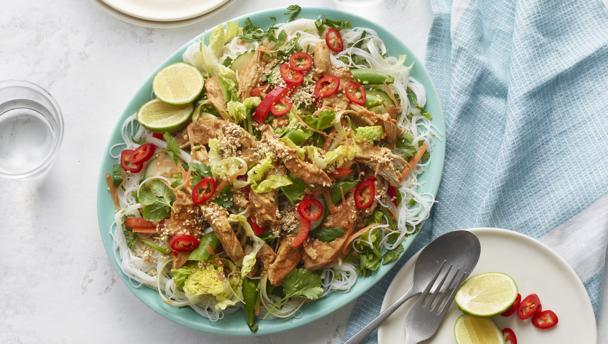 This is made possible by BBC Foods!
Ingredients
200g/7oz vermicelli rice noodles
60g/2¼oz no added salt or sugar peanut butter
2 tbsp reduced-salt soy sauce
1 tbsp sweet chili sauce
2 garlic cloves, finely grated or crushed
1 thumb-sized piece of fresh root ginger, grated
1 orange, zest, and juice
300g/10½oz leftover roast chicken, cut into strips
1 carrot, peeled and grated
½ cucumber, finely sliced
4 spring onions, shredded
160g/5¾oz sugar-snap peas halved
1 red pepper, seeds removed, finely sliced
1 Little Gem lettuce, finely shredded
1 small bunch of fresh coriander, stems finely chopped, and leaves roughly chopped
1 tbsp toasted sesame oil
2 tbsp shredded mint leaves
1 red chili, finely sliced
1 tbsp toasted sesame seeds
2 limes, halved
Method
Put the noodles into a heatproof bowl and cover with just-boiled water.

Set aside for 10 minutes. Stir often

Spoon the peanut butter, soy and chili sauce, garlic, ginger, orange zest, and juice into a bowl

whisk to combine.

Add 2–3 tablespoons of warm water and whisk until smooth. Add the chicken too.

stir to coat in the dressing.

Mix the carrot, cucumber, spring onions, sugar snap peas, red pepper, and lettuce in a large bowl.

Add the coriander and stir through.

Add the chicken and dressing to the salad and lightly stir together.

Drain the noodles and return to the bowl.

Add the sesame oil and mint leaves and stir to coat.

Divide the noodles between four serving plates, then top with the chicken salad and scatter over the chili and sesame seeds. Serve the lime halves alongside.
Banner and Image Credit: BBC