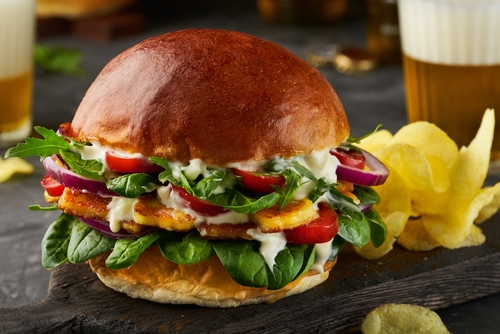 An easy smoky halloumi burger that will make you rethink burgers forever. Whip up this Veggie burger on the barbecue for a quick and easy Friday dinner!
This delicious meal serves two, and with a cooking time of fewer than 10 minutes, your belly won't go too long being hungry!
The ingredients to make this veggie bbq burger are:
2 tablespoons of olive oil
2 portobello mushrooms, wiped clean and stalks taken off
200g of halloumi cheese, thickly sliced
1 brioche bun that needs to be cut in half
2 tablespoons of finely chopped onion
2 tablespoons of finely chopped tomato
2 tablespoons of finely chopped cucumber
2 tablespoons of finely chopped fresh mint
1 lime, the juice only
4 tablespoons of hummus
1 large tomato, thickly sliced
4 romaine lettuce leaves, roughly torn
salt and freshly ground black pepper
Method:
Heat a griddle pan or barbecue until hot. Brush half the oil over the mushrooms and season them well. Place on the griddle pan or barbecue and cook for 6–8 minutes, turning them over halfway through cooking.

Meanwhile, brush the remaining oil over the halloumi slices and cut the side of the brioche buns. Cook for 2–3 minutes, or until lightly scorched.

Mix together the chopped onion, tomato, cucumber, and mint with the lime juice and season well.

To group the burgers, put a mushroom on the bottom brioche half and spread it over the hummus. Top with the sliced tomato, lettuce, and halloumi. Spoon over the onion and tomato relish, sandwich with the brioche lid, and eat straight away.
image and banner credits:Diana Krykavska