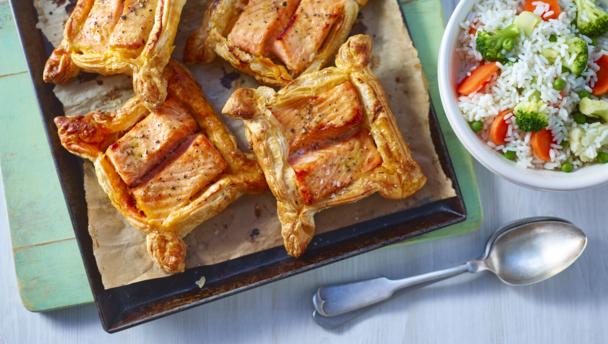 This is made possible by BBC Foods!
Ingredients
1 x 320g pack frozen ready-rolled puff pastry
4 x 125g/4½oz frozen skinless salmon fillets
plain flour, for dusting
2 tbsp sun-dried-tomato pesto (from a jar)
1 tsp full-fat or semi-skimmed milk
1 tsp freshly squeezed lemon juice
freshly ground black pepper
a handful of fresh basil leaves, to garnish (optional)
For the vegetable rice
400g/14oz frozen cooked rice
200g/7oz frozen mixed vegetables
Method
Remember to preheat the oven before starting this to 220C/200C Fan/Gas 7.
Take the puff pastry and salmon out of the freezer and thaw for 2 hours at room temperature.

Or leave them in the fridge overnight!

When the pastry and salmon have thawed, place a baking tray inside the oven as it heats.

Unwrap and unroll the pastry onto a clean. Cut it into four equal-sized rectangles.

Place 1 heaped teaspoon of the pesto into the center of each rectangle.

Cut each salmon fillet in half widthways and place two halves in the center of each pastry rectangle.

Make sure this is on top of the pesto!

Brush the edges of each pastry rectangle with the milk, then fold the edges over themselves to create open parcels, pinching the corners to seal.

Brush the exposed pastry with a little more milk. Squeeze a little lemon juice over each piece of salmon, and season, to taste.

Remove the baking tray from the oven and place it onto a heatproof surface.

Arrange the salmon-and-pesto parcels onto the tray, then bake them in the oven for 25 minutes or less.

For the vegetable rice, 5 minutes before the salmon-and-pesto parcels finish cooking, defrost the rice in the microwave until piping hot throughout.

Meanwhile, cook the vegetables in a saucepan of boiling water for 2 minutes.

Drain in a colander, then mix with the rice.

To serve, divide the vegetable rice equally among four warmed serving plates, then place one salmon-and-pesto parcel on top of each portion. Garnish with the basil leaves, if using.
Banner and Image Credit: BBC