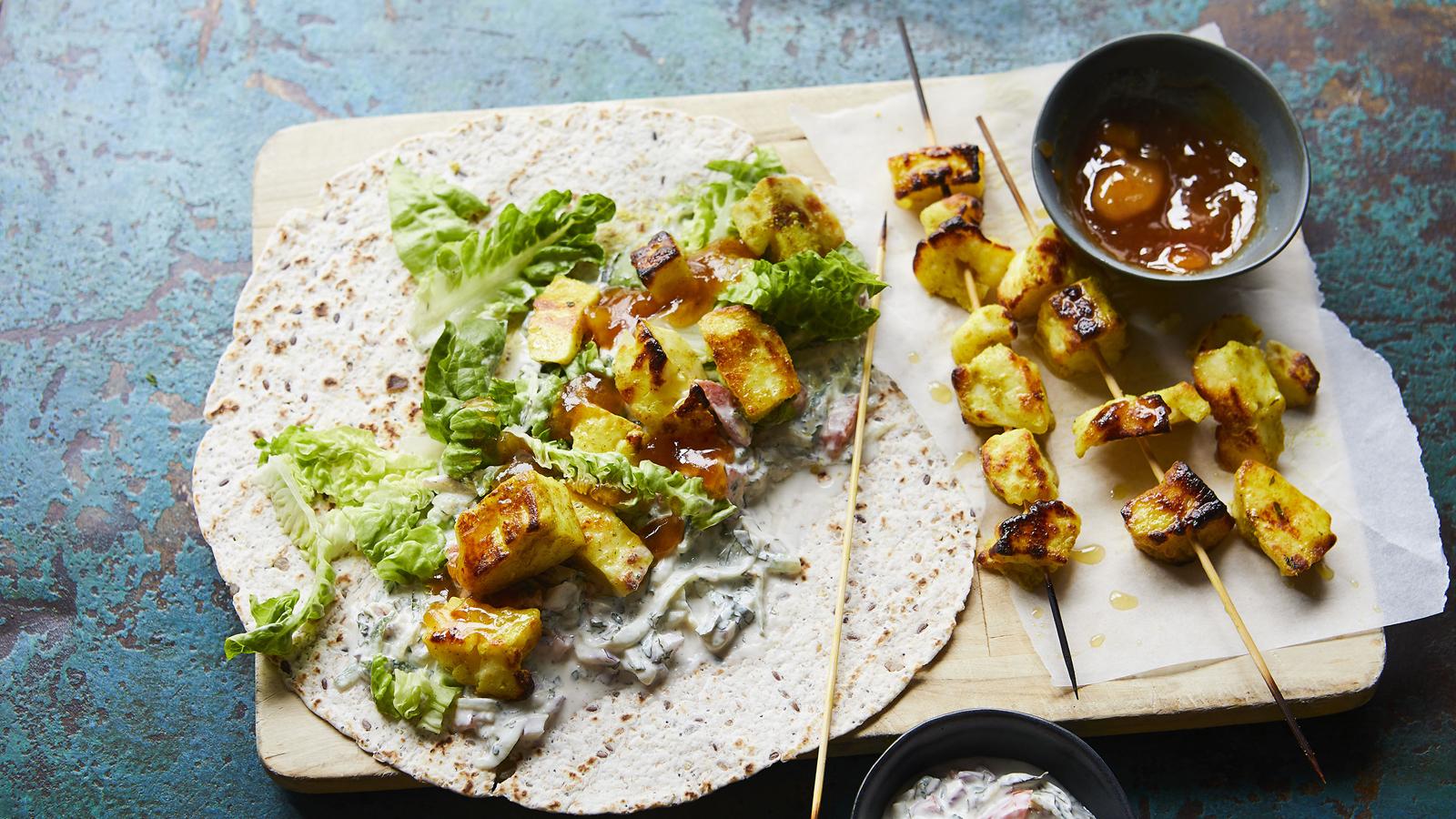 This is made possible by BBC Foods!
Ingredients
1 tbsp mild or medium curry powder
2 tbsp low-fat Greek-style yoghurt
½ lemon, juice only
1 tbsp olive oil
250g/9oz halloumi, cut into bite-sized pieces
4 multi-seed tortilla wraps
2 tbsp mango chutney
1 Baby Gem lettuce, shredded
For the mint and cucumber raita
125g/4½oz low-fat Greek-style yoghurt
1 red chilli, seeds removed, finely chopped
4 tbsp mint leaves, finely chopped
¼ cucumber, halved, seeds removed, coarsely grated
½ red onion, finely chopped
1 vine tomato, roughly chopped
salt and freshly ground black pepper
Method
Mix together the curry powder, yoghurt, lemon juice and olive oil.

Coat the halloumi in the marinade .

Cover and chill in the fridge for at least 1 hour.

Meanwhile, make the raita by mixing all the ingredients together in a small bowl.

Season well with salt and pepper and chill in the fridge.

Preheat the grill to medium-high.

Thread the marinated halloumi pieces onto two metal skewers, reserving any leftover marinade.

Cook the halloumi skewers under the grill for 7 minutes.

Once the halloumi pieces are golden-brown and beginning to char, remove them from the skewers and set aside.

Warm the wraps for 20 seconds each in a microwave, then fill with the halloumi, raita, mango chutney and Baby Gem lettuce.
Banner and Image Credit: BBC