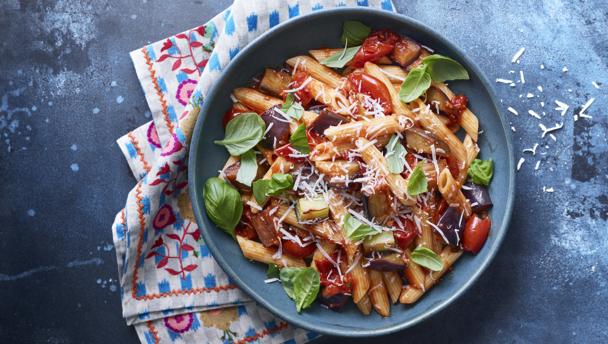 This is made possible by BBC Foods!
Ingredients
2 tbsp extra virgin olive oil, plus extra if needed
1 large aubergine, cut into roughly 2cm/¾in cubes
1 large garlic clove, sliced
400g tin cherry tomatoes
pinch sugar
200g/7oz penne pasta
10g/⅓oz fresh basil, torn
ricotta Salata (salted, dried ricotta) or pecorino, crumbled or grated
salt and freshly ground black pepper
Method
Heat half the oil in a non-stick frying pan, make sure this is large, over high heat.

Season the aubergine generously with salt, then fry half of the aubergine cubes until golden brown. Remove from the pan with a slotted spoon and set aside.

Make sure to repeat with the remaining oil and aubergine pieces.

Turn the heat down to medium and add the garlic, along with a little more oil, only if needed. Cook for a minute until soft but not browned, then add the cherry tomatoes, a pinch of sugar, and a little salt and pepper. Simmer for 15 minutes.

Make sure to stir often.

Cook the pasta in a saucepan of boiling, salted water according to the packet instructions.

Drain the pasta, reserving a little of the cooking water.

Add the aubergine to the tomatoes, stir, and season to taste with salt and pepper. Stir in the drained pasta.

Serve with torn basil and crumbled ricotta Salata or grated pecorino.
Banner and Image Credit: BBC