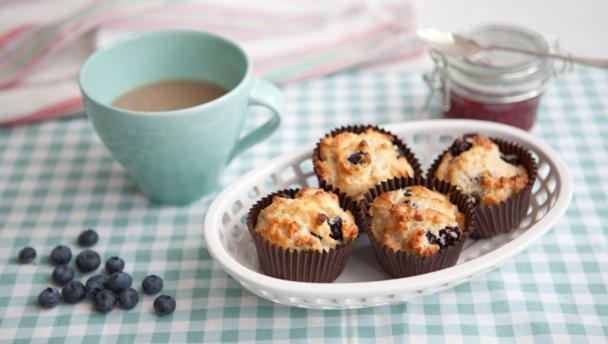 This recipe is courtesy of BBC GoodFood.
Ingredients
175g/6oz rice flour
50g/2oz tapioca flour
1 tsp bicarbonate of soda
2 tsp gluten-free baking powder
1 rounded tsp xanthan gum
¼ tsp salt
150g/5oz caster sugar
60g/2½oz butter, melted and cooled
1 egg, preferably free-range, beaten
60g/2½oz buttermilk
2 tbsp milk
150g/5oz fresh blueberries
Method
Before starting this, make sure to preheat the oven to 180C/35F/Gas 4.
Sift together the rice flour, tapioca flour, bicarbonate of soda, baking powder, and xanthan gum in a mixing bowl, make sure the bowl is large enough for this, and then add the salt and sugar and mix well.

Whisk together the cooled melted butter, egg, buttermilk, and milk in another bowl. Make a well in the center of the dry ingredients and pour in the butter, egg, and buttermilk mixture. Stir gently and ensure the bowl is large again, with a wooden spoon to combine and finally gently fold in the blueberries.

Divide the batter equally between the 12 muffin cases and bake in the oven for 25 minutes.

They are nicest served warm.
Banner and Image Credit: BBC