Spaghetti with Garlic Oil and Peperoncino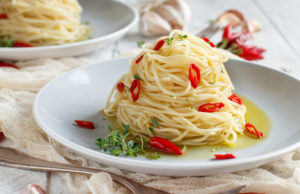 Serves 2
Ingredients 
350g spaghetti
2 large or 3 small garlic cloves (minced)
1 1/2 tsp chilli pepper flakes
6 or 7 tbsp extra virgin olive oil
salt and pepper to taste
Method
Cook the spaghetti in a pan with water, its best to follow directions on the packet but you can cook to your liking. Strain the spaghetti and place in a large serving dish once cooked.
Add minced garlic, chilli pepper flakes, olive oil, salt and pepper.
Mix together and cook well on low heat for approximately 5 minutes
Once cooked serve and and enjoy.