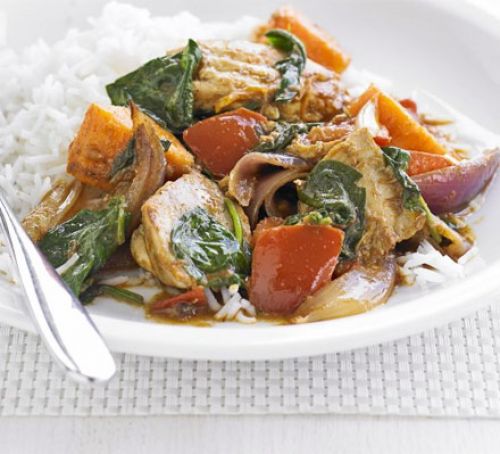 Ingredients
500g sweet potato, peeled and cut into bite-size pieces
1 tbsp olive oil
4 skinless chicken thigh fillets, each cut into large chunks
1 large red onion, cut into wedges
2 tbsp rogan josh curry paste
2 large tomatoes, roughly chopped
125g spinach
Method
Cook the sweet potatoes in boiling, salted water for 5-7 mins until just tender. Drain well, then set aside. Meanwhile, heat the oil in a large frying pan, then add the chicken and onion. Cook for 5-6 mins until the chicken is browned and cooked through. Stir in the curry paste, cook for 1 min, add the tomatoes, then cook for another min.
Pour in 100ml boiling water and mix well. Simmer for 5 mins, add the spinach, then cook for 2 mins until wilted. Fold in the potatoes and heat through. Serve with rice and naan breads.