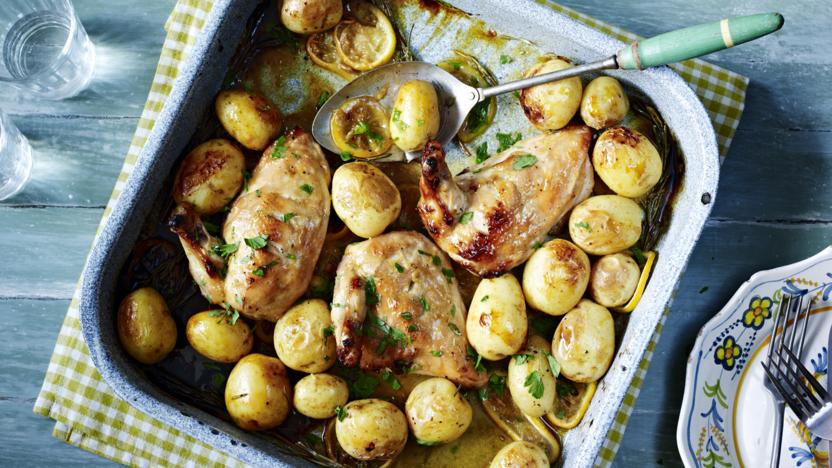 This is made possible by BBC Foods!
Ingredients
For the marinade
4 tbsp clear honey
2 tbsp Dijon mustard
3 garlic cloves, peeled, grated
3-4 tsp cracked black pepper, to taste
2 lemons, zest, and juice
For the lemon pepper chicken
4 bone-in chicken breasts, skin removed, each breast scored three or four times using a sharp knife
4-5 sprigs of fresh rosemary
1 lemon, thinly sliced
700g/1½lb baby new potatoes
salt and freshly ground black pepper
a handful of chopped fresh flatleaf parsley leaves, to serve
Method
Before starting this dish, make sure to preheat the oven to 200C/180C Fan/Gas 6.
For the marinade, mix together all the marinade ingredients in a bowl.

For the lemon pepper chicken, rub some of the marinades into the scored chicken, then place the chicken breasts in a bowl and pour over the remaining marinade.

Cover the bowl with cling film and chill in the fridge for at least 10 minutes and up to two hours.

When the chicken has marinated, place it in the oven!

Arrange the rosemary sprigs and lemon slices in the bottom of a roasting tray. Tip the potatoes into the roasting tray, then place the marinated chicken breasts on top of the potatoes.

Give the chicken a final coating of marinade and season, to taste, with salt and freshly ground black pepper.

Roast for 30–35 minutes, or until the potatoes and the chicken are cooked.

Cover the roasting tray with aluminum foil and set the chicken aside to rest for 10–15 minutes. Just before serving, scatter over the chopped parsley.
Banner and Image Credit: BBC