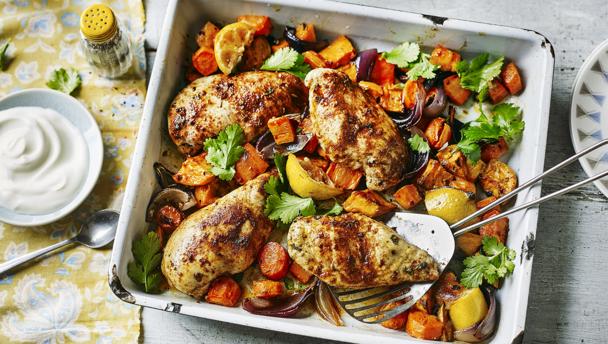 This is made possible by BBC Foods.
Ingredients
400g/14oz sweet potatoes, peeled and cut into 2cm/1in cubes
400g/14oz carrots, cut into 2cm/1in cubes
1 tbsp olive oil
1 large red onion, cut into 8 wedges
3 garlic cloves
4 chicken breast fillets (about 170g/6oz each)
1 lemon, quartered
2 tsp ras-el-hanout spice mix
a handful of fresh thyme sprigs
a handful of fresh coriander, finely chopped
salt and freshly ground black pepper
4 tbsp low-fat natural yogurt, to serve
Method
Make sure to preheat the oven to 200C/180C Fan/Gas 6 so it is ready for use.
Put the sweet potatoes and carrots in a roasting tray, drizzle over the oil, and season well with salt and pepper.

Roast for 10 minutes.

Add the red onion and garlic and toss well. Roast for another 20 minutes.

Put the chicken breasts and lemon quarters in the roasting tray in a single layer. Sprinkle everything with the ras-el-hanout and thyme.

Roast for a further 15 minutes, or until the chicken is cooked through.

Stir through the coriander.

To serve, divide between four plates, each with a slice of roast lemon for squeezing over and a tablespoon of yogurt.
Banner and Image Credit: BBC