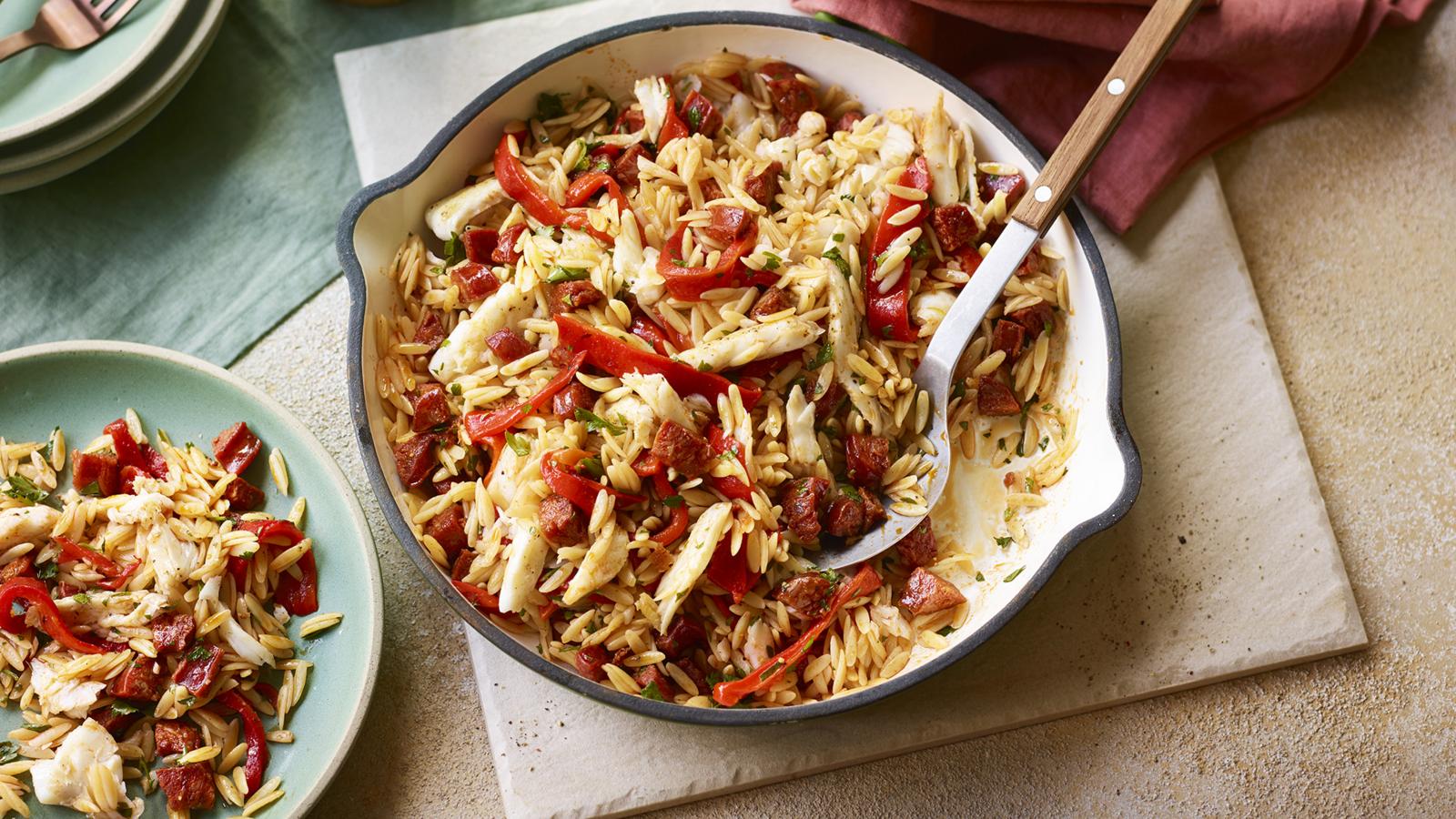 This is made possible by BBC Foods!
Ingredients
200g/7oz orzo pasta
225g/8oz cod fillet, skinless and boneless
salt and freshly ground black pepper
5 tbsp olive oil
200g/7oz cooking chorizo, roughly chopped
½ tsp smoked hot paprika
90g/3½oz roasted red peppers (from a jar), cut into strips
3 tbsp chopped fresh flatleaf parsley
½ lemon, juice only
Method
Before starting this recipe, make sure to preheat the oven to 200C/390F/Gas 6.
Bring a large pan of salted water to a boil, add the orzo and cook for 10-12 minutes.

Drain the orzo and set it aside.

Season the cod with salt and freshly ground black pepper.

Heat an ovenproof frying pan until smoking, add one tablespoon of the olive oil and fry the cod for 1 minute on both sides. Transfer to the oven to cook for 3 minutes.

Remove the fish from the pan and flake the flesh onto a plate.

Heat a pan until hot, add the remaining olive oil and the chorizo and fry for 3 minutes.

Using a slotted spoon, remove the chorizo from the pan and set aside.

Add the cooked orzo and smoked sweet paprika to the pan, stir well to coat in the oil and cook for 2 minutes. Return the chorizo to the pan and add the roasted red peppers and flaked cod.

Mix well to combine and season with salt and freshly ground black pepper. Stir in the parsley and lemon juice.

To serve, spoon onto serving plates.
Banner and Image Credit: BBC