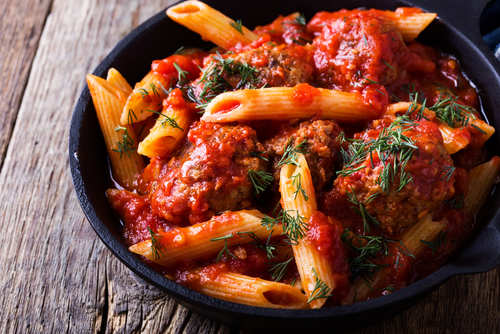 This is made possible by BBC Foods!
Ingredients
For the meatballs
250g/9oz cauliflower florets, cooked and cooled (approx. half a head of cauliflower)
200g/7oz frozen chopped spinach, defrosted and squeezed dry
400g tin black beans, drained
2 garlic cloves, crushed or grated
2 tsp soy sauce
1 tsp dried mixed herbs
150g/5½oz oats
For the sauce
2 x 400g tin chopped tomatoes
200g/7oz roasted red peppers from a jar, drained
30g/1oz tomato purée
2 garlic cloves, crushed or grated
olive oil
250g/9oz whole wheat pasta (spaghetti or linguine)
Method
Cook the cauliflower florets in a pan of boiling water for 8 minutes.

Drain thoroughly, then tip onto a plate lined with kitchen paper and leave to cool.

Grate the cooked cauliflower with a cheese grater into a bowl, then add the spinach, beans, garlic, soy sauce and mixed herbs.

Work the mixture together with a potato masher to form a rough paste.

Blend the oats to a fine powder with a stick blender, then add to the bowl and mix to combine.

See the tips box below on how to make the veggie balls with a food processor.

Roll the mixture into balls, put on a tray or plate and chill for at least 30 minutes.

Preheat the oven to 180C/160C Fan/Gas 4.

To make the sauce, tip the tinned tomatoes into a jug with the peppers, tomato purée, garlic and 350ml/12fl oz water.

Whizz to a smooth sauce with a stick blender.

Heat a splash of oil in an oven-proof, wide-lidded saucepan pan or casserole dish.

Fry the veggie balls in batches until golden-brown, transferring to a plate with a slotted spoon when done.

Pour half of the sauce into the pan, then arrange the dried pasta on top.

Spread the balls over the pasta, then pour over the remaining sauce. Bring to a simmer, then cover with a lid and transfer to the oven for 25 minutes.

Give everything a gentle stir before serving.
Banner and Image Credit: istetiana