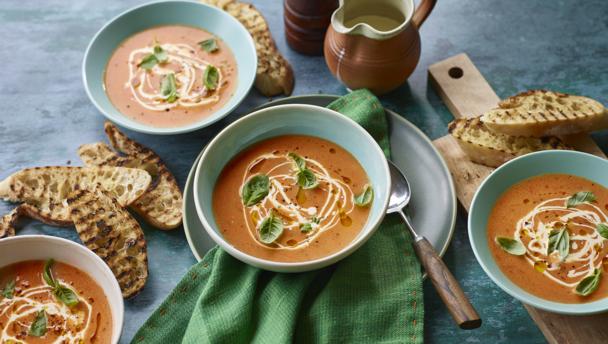 This is made possible by BBC Foods!
Ingredients
1kg/2lb 4oz mixed ripe tomatoes, roughly chopped
3 garlic cloves, roughly chopped
1 handful fresh basil leaves, plus extra to serve
1 tbsp tomato purée
4 tbsp olive oil, plus extra to serve
400-600ml/14-21fl oz hot vegetable stock
salt and freshly ground black pepper
2-3 tbsp caster sugar, to taste
150ml/5fl oz double cream, plus extra to serve
1 ciabatta loaf, thickly sliced, to serve
Method
Heat a saucepan over high heat. When the pan is hot, add the tomatoes and fry for 4 minutes.

Add the garlic, basil, tomato purée, and two tablespoons of olive oil.

Continue to cook for a further 1 minute.

Pour in 400ml hot vegetable stock, bring the mixture to the boil, then reduce the heat until the mixture is simmering.

Simmer for 3-4 minutes.

Depending on the water content of your tomatoes, you may need to add more stock to reach a good consistency.

Once ready, remove the pan from the heat and use a stick blender to carefully blend to a purée.

Return the pan to lowish heat to warm through and season, to taste, with salt, freshly ground black pepper, and sugar.

Pour in the cream and return the mixture to a simmer.

Continue to simmer for a further 2 minutes.

Meanwhile, brush the ciabatta slices with the remaining two tablespoons of olive oil.

Heat a griddle pan until hot, add the ciabatta slices, in batches if necessary, and cook for 1 minute on each side.

To serve, ladle the soup into four serving bowls. Drizzle a swirl of double cream into each bowl, then a swirl of olive oil, to garnish. Sprinkle over a few basil leaves.
Banner and Image Credit: BBC