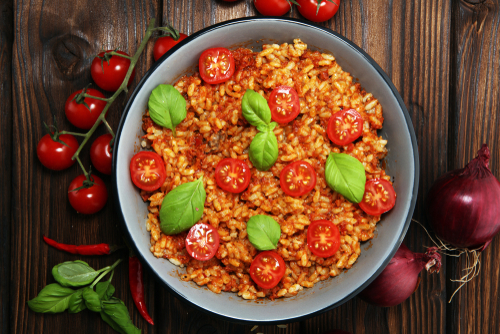 Here's how to make a quick and easy Roasted Tomato Risotto, the prep time is less than 30 minutes so this will serve you and one extra lucky person in no time!
Ingredients:
500g/1lb 2oz cherry tomatoes, halved
1 tbsp olive oil
1 small onion, finely chopped
2 garlic cloves, crushed
150g/5½oz risotto rice
25g/1oz tomato purée
600ml/20fl oz hot vegetable stock
knob of butter
30g/1oz Parmesan (or alternative vegetarian hard cheese), finely grated
a handful of fresh basil leaves
salt
Method
Firstly you will need to preheat the oven to 220C/200C fan/gas 7, then get some greaseproof paper to line your baking tray. Arrange the tomatoes on the tray in an even layer, cut-side up, and season with a pinch of salt. Roast for 25 minutes until soft and jammy.

Meanwhile, heat the oil in a deep frying pan, add the onion and garlic, and cook gently for 5 minutes until soft. Stir in the rice and tomato purée and cook for 2 minutes, then pour in a ladleful of the stock. Stir until the stock has been absorbed, then add another ladleful and continue to stir. Keep adding the stock a ladleful at a time, stirring constantly, until the rice has absorbed all of the stock; it should be just cooked through but retain a bit of bite.

Remove the pan from the heat and beat in the butter and half of the cheese. Fold in the roast cherry tomatoes, then spoon into warm bowls. Top with the remaining cheese, scatter over the basil leaves, and Enjoy!
Banner and image credits: beats1