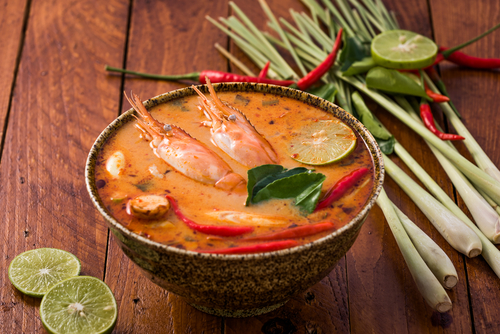 Here's a recipe for the top three Thai dishes – according to visitors
In line with Thailand's continuing emergence as one of the world's top tourist destinations, the global reputation of Thai food has soared in recent years. Many Thai dishes contain a subtle blend of the four principal flavourings of salty, sweet, sour, and spicy. When it comes to dining out in Thailand, there's a myriad of choices. For a start, there are the five recognised regional cuisines that correspond to the five main regions of Thailand.
The North, South, Issan (North East), Bangkok and Central regions of Thailand, all have cuisines that have each taken their influences from distinctly different sources.  Along with the staples of meat, rice and noodles, there is a great availability of different dips, relishes, garnishes, and sauces. These accompaniments are typically included in almost all Thai dining experiences. This means that there are literally hundreds of dishes to choose from when holidaying in Thailand.
So, for those travelling to Thailand, what are the most popular dishes? Well, a survey was recently undertaken by Thailand's National Culture Commission to answer that very question. According to the survey, the three most popular dishes, as voted for by foreign visitors were; spicy & sour prawn soup, sweet green chicken curry, and stir-fried noodles.
Tom Yam Kung (Spicy & Sour Prawn Soup)
Originating from Thailand, Tom Yam is a hot and sour soup usually cooked with prawns. In recent years, it has been popularised around the world. The word 'tom' is derived from the boiling process, while 'yam' refers to spicy and sour. Tom Yam is characterised by its distinct hot and sour flavours, with fragrant spices and herbs generously used in the broth. Fresh ingredients such as lemongrass, kaffir lime leaves, galangal, lime juice, fish sauce, and crushed red chilli peppers are always added to the soup. If you don't like prawns, it's usually possible to find Tom Yam on the menu, with other proteins such as chicken, beef or pork, used as a substitute.
Tip: Unless you really don't like prawns………go for the prawns! In my opinion, using a meat substitute really takes something away from the dish!
Pad Thai (Stir-Fried Noodles)
Often cited as Thailand's national dish, Pad Thai is made with rehydrated dried rice noodles. These are stir-fried with eggs and diced tofu. Flavourings can include tamarind pulp, fish sauce, dried shrimp, garlic, shallots, chives, red chilli pepper and palm sugar. Ingredients like bean sprouts, pickled radishes and even raw banana flowers, are also added. Although a meal in itself, a small serving of meat (usually chicken) or seafood is then added, to add a bit more substance to the dish.  The dish is then usually served with slices of lime and chopped roasted peanuts.
Tip: If you adding anything to your Pad Thai, then for me, it always has to be fresh prawns!
Kaeng Khiao Wan Kai (Sweet Green Chicken Curry)
The 'green' curry comes from the colour of the dish, which is derived from green chillies. The 'sweet' (wan) in its Thai name is said to refer to the particular colour of the green itself, and not as you might expect, the taste of the curry. The curry has a coconut milk base and is traditionally fairly spicy. However, it does taste sweet in comparison to other Thai curries. So for me, the jury is still out on the origins of the name.
Apart from the main protein and vegetables, the dish consists of coconut milk, green curry paste, palm sugar, and fish sauce. Like many dishes, the exact ingredients are not set in stone. As well as Thai eggplant (aubergine) and pea aubergines, any other green or whitish vegetables can be added, and sometimes even fruit. The green curry paste is traditionally made by pounding a good number of ingredients in a mortar. These can include green chillies, shallots, garlic, galangal, lemongrass, kaffir lime peel, cilantro roots (coriander), cumin seeds, white peppercorns, shrimp paste and salt.
Traditionally, the curry is eaten with jasmine rice as an accompaniment. And if you don't fancy chicken, then other versions of the dish are usually made with beef or prawn, or for vegetarians; tofu.
Tip: Unless you are vegetarian, go for the chicken! In my book – it's easily the best.
Have you enjoyed reading this article? If so, why not look up some of our other food features and menus in our Food & Drink section, by clicking on the provided link.