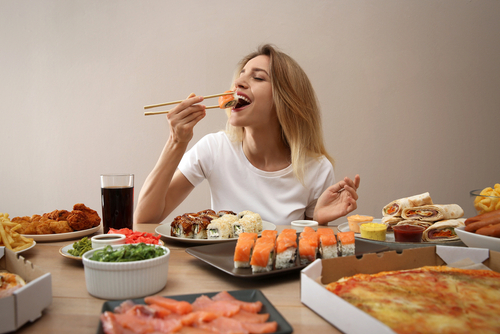 What is Food?
Along with air, water, shelter, and clothing, food is one of man's most basic needs. Did you know that all foods are either plant, animal or fungal in origin? They all contain essential nutrients such as carbohydrates, fats, proteins, vitamins, or minerals, i.e. substances that are essential for the growth, repair, and maintenance of the human body. Ever thought just what are the world's most favoured foods? Based on global consumption, here's a quick rundown (in reverse order) on the foods we all eat the most:
No. 5 – Bread
Bread is consumed in every single county across the globe, making it the world's most widely eaten food. In its most basic form, bread is a simple mixture of flour and water. According to history, bread was first baked in the Middle East some 10,000 years ago. Bread comes in many forms, including loaves, baguettes, naans, chapatis, tortillas, rotis, pizza bases, and bagels, to name but a few. In Europe, Germany alone lays claim to producing more than 1,300 different types of bread. In 2023, it is estimated that the global consumption of bread will hit around 130 million tonnes. The USA produces some 14 million tonnes of bread per annum, the most of any country. However, it is Turkey that consumes the most bread per capita, reported at well over 100 kg per year.
No. 4 – Chicken
It is estimated that about 86% of the world's population now eats meat on a regular basis. Chicken is a relatively cheap source of protein when compared to other types of meat. This has made it not only the world's favourite meat but also one of the most popular foods on Earth. In 2022, according to some experts, the global consumption of chicken overtook that of pork for the first time. It is currently estimated that almost 200 million chickens are consumed across the world on a daily basis. This puts the global consumption of chicken at around 135 million tonnes per annum. Producing over 21 million tonnes per annum, the USA is the world's biggest consumer of chicken. However, the average Israeli consumes more than 58 kg of chicken per annum, making the country the world's biggest lovers of the poultry favourite.
No. 3 – Seafood
The global consumption of fish and other seafood is around 200 million tonnes every year. This total is a combination of wild fish catches and fish farming. Between 90 and 95 million tonnes of seafood are caught each year through wild fishing, a volume that has remained stable since the 1990s. In contrast, seafood produced from farming has risen from some 17 million tonnes in 1990 to over 100 million tonnes today. China is the world's largest seafood consumer, producing more than 60 million tonnes, annually. However, at some 90 kg per annum, it's Iceland that is the world's highest per capita fish-consuming country.
No. 2 – Potatoes
Did you know there are more than 4,000 edible varieties of potato? Most of these are found in the Andes region of South America. More than one billion people eat potatoes on a daily basis. In recent years, the growth of potato production has rapidly overtaken all other food crops in developing countries. This can be credited to the fact that the potato is: easy to store; high yielding; low maintenance; has a wide planting area, and a high nutritional value, in comparison to other food crops. According to the latest data, global potato production exceeds 375 million tonnes. Growing more than 90 million tonnes annually, China is the world's biggest potato producer and consumer. However, the world's biggest potato lovers are the Belarussians, who each chomp their way through some 170 kg of spuds per year.
No. 1 – Rice
Rice, by a considerable margin, is the most consumed food in the world. It is a food staple for some 3.5 billion people across Asia, Africa and Latin America. It is also eaten to some degree in almost every other country of the world. In 2022, the global consumption of rice was estimated at some 520 million tonnes. The Chinese, the world's biggest consumers by country, manage to munch their way through some 155 million tonnes of the stuff, every year. However, at more than 260 kg per capita, the South East Asian nation of Laos consumes more rice per person, than any other country in the world.
Header image credit: New Africa/Shutterstock.com