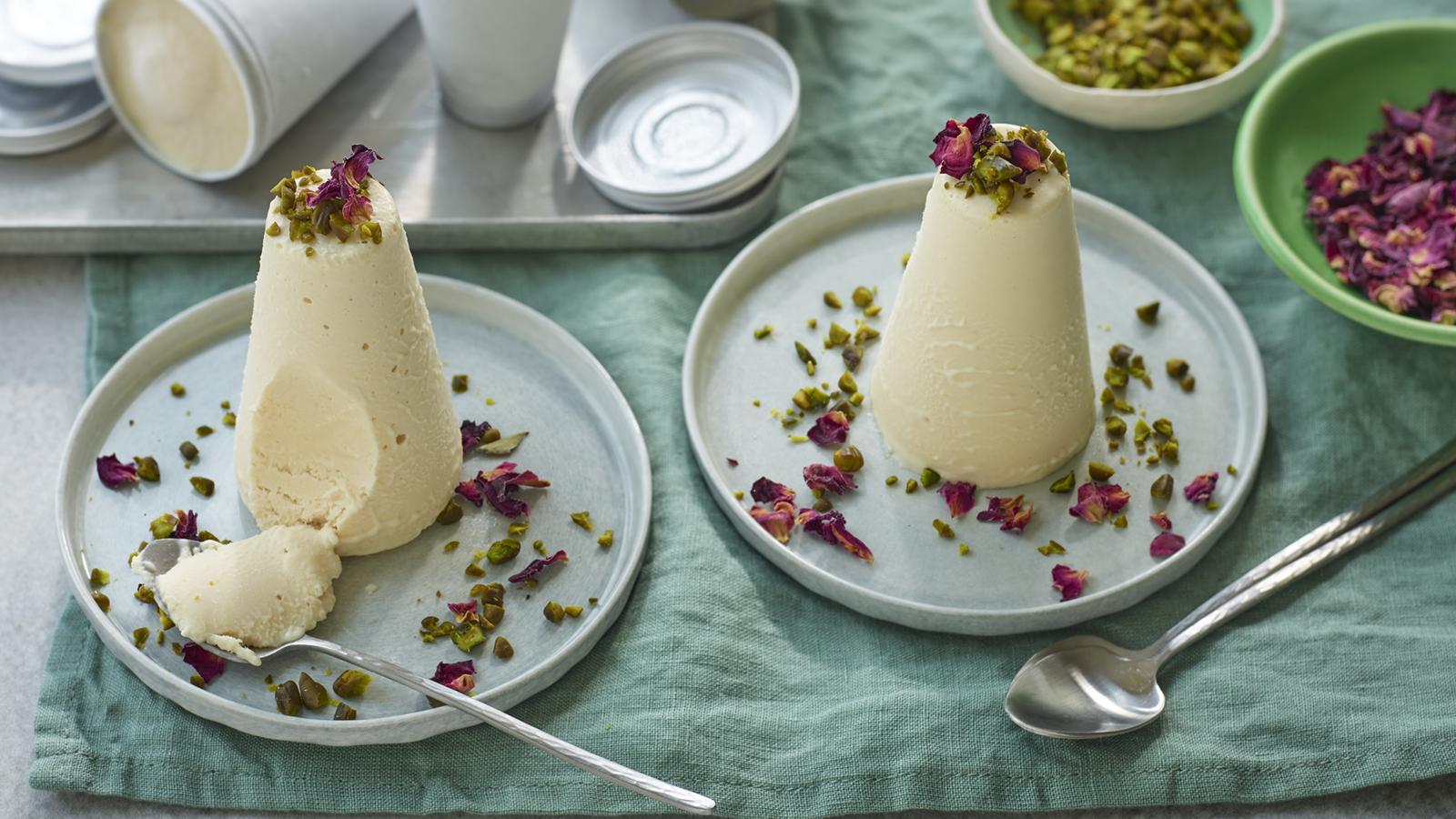 This is made possible by BBC Foods!
Ingredients
400g/14oz slender young rhubarb, cut into chunks
150g/5½oz caster sugar
300ml/10fl oz evaporated milk
8 cardamom pods, lightly crushed
1–2 tbsp rosewater
100ml/3½fl oz kefir
250ml/9fl oz double or whipping cream
salt
To serve (optional)
dried rose petals
chopped pistachios
Method
Preheat the oven to 200C/180C Fan/Gas 6. Put the rhubarb in a roasting tin, sprinkle over 2 tablespoons of the sugar and stir until completely coated.

Cover with kitchen foil and roast for 15 minutes, then remove the foil and roast for a further 10 minutes.

Remove from the oven and leave to cool.

Put the remaining sugar in a saucepan with the evaporated milk, cardamom pods, 1 tablespoon of rosewater and a pinch of salt.

Heat gently, stirring constantly until the sugar has dissolved, then bring just up to boiling point.

Remove from the heat and leave to cool for a few minutes, then stir in the kefir. Leave to cool to room temperature.

Strain the milk mixture and put in a blender with the roasted rhubarb. Blitz until smooth, then push through a sieve to make it extra smooth if you like.

Chill thoroughly.

Whip the cream to soft peaks then fold through the chilled rhubarb mixture.

Taste and add more rosewater if necessary.

Pour into moulds and freeze. If your moulds are big enough, whisk with a fork every 30 minutes, then freeze until solid.

To serve, remove from the freezer and leave to stand for 10 minutes. Turn out and sprinkle with a few dried rose petals and/or chopped pistachios if you like.
Banner and Image Credit: BBC