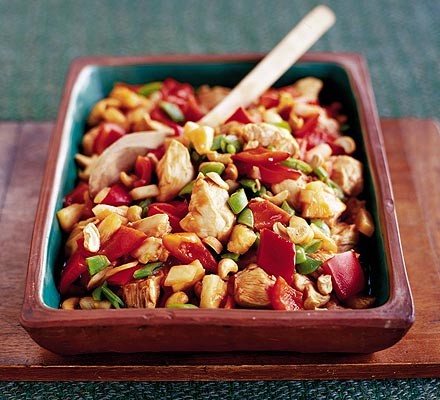 Tuck into this easy and low carb recipe with your family. 
Sweet and sour chicken is a classic dish – so here's an easy way to make it.
It includes plenty of protein and veg.
Ingredients
9 tbsp tomato ketchup
3 tbsp malt vinegar
4 tbsp dark muscovado sugar
2 crushed garlic cloves
4 skinless and boneless chicken breast, cut into chunks
1 small onion, roughly chopped
2 red peppers, seeded and cut into chunks
227g drained can pineapple pieces in juice (optional)
100g sugar snap peas, roughly sliced
handful salted, roasted cashew nuts, optional
Method
In a large microwaveable dish, mix the ketchup, vinegar, sugar and garlic thoroughly with the chicken, onion and peppers. Microwave, uncovered, on high for 8-10 mins until the chicken is starting to cook and the sauce is sizzling.
Stir in the optional pineapple pieces and sugar snap peas and return to the microwave for another 3-5 mins until the chicken is completely cooked. Leave to stand for a few minutes, then stir in the cashews, if using, and serve.
Be sure to check out some other recipes we've got on the site.
Recipe courtesy of BBC GoodFood.