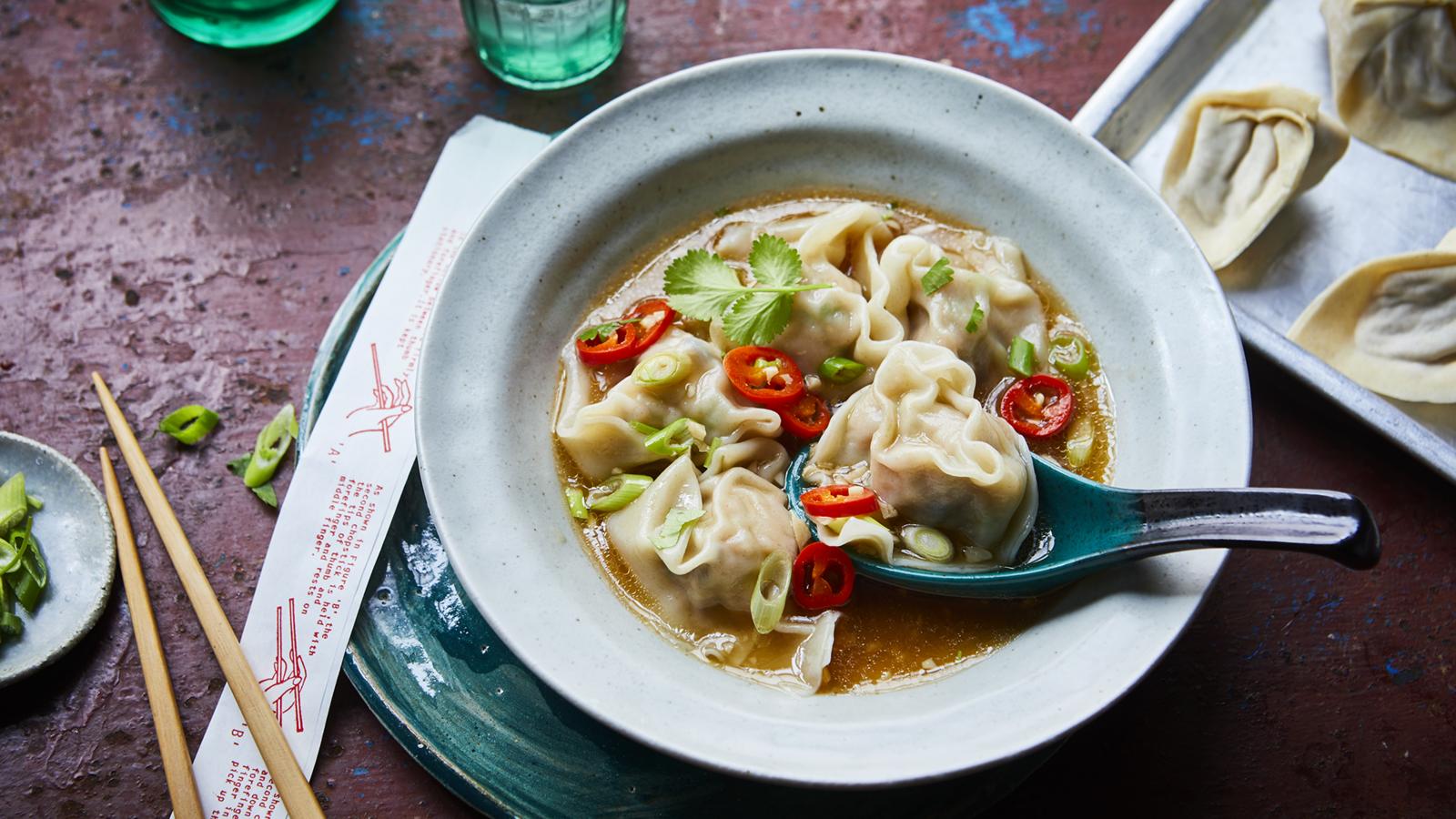 This is made possible by BBC Foods!
Ingredients
For the wontons
1 garlic clove, finely chopped
3cm/1¼in fresh root ginger, peeled and finely chopped
1 spring onion, finely chopped
5 fresh coriander sprigs, finely chopped
200g/7oz celery, finely chopped
50g/1¾oz dried shiitake mushrooms (dried weight), soaked overnight, drained and finely chopped
1–2 Chinese leaves, finely chopped
100g/3½oz pork mince
150g/5½oz raw tiger prawns, peeled and finely diced (optional)
20 wonton wrappers
salt
For the marinade
1 tsp salt
¼ tsp white or black pepper
½ tsp sugar
1 tsp sesame oil
For the chilli broth
1 tbsp vegetable or sunflower oil
2 garlic cloves, finely chopped
2–3 large red chillies, finely chopped
½ tbsp light soy sauce
200ml/7fl oz fresh chicken stock
1 spring onion, finely sliced
handful fresh coriander stalks, chopped
Method
To make the wontons, put the garlic, ginger, spring onion, coriander, celery, shiitake mushrooms and Chinese leaves in a large bowl.

Add the pork mince and prawns to the bowl.

Mix all of the ingredients for the marinade together in a small bowl and add to the filling mixture.

Mix everything together well.

To create the wontons, place 1 teaspoon of the mushroom mixture in the centre of a wonton wrapper.

Using the tip of your finger, wet all of the sides of the wrapper with cold water.

Fold one of corners of the wrapper over the filling to its opposite corner and press pastry down to seal all sides and to form a triangle.

Holding the base of the triangle with your thumbs, pull the two bottom corners of the triangle towards each other, then overlap the ends and press together to form a trough-shaped wonton.

Set aside and fold all of the wontons in the same way.

Bring a saucepan of water with a pinch of salt to the boil. Place the wontons in the boiling water and then lower the heat to a gentle simmer.

This might need to be done in stages to avoid overcrowding. Boil the wontons for 3 minutes.

Place all of the wontons in a large deep bowl that will easily have room for the broth.

To make the broth, heat the oil over a medium heat in a saucepan and fry the garlic and chillies for 2 minutes before adding the soy sauce and chicken stock.

Bring to the boil and simmer for 2 minutes. Add the spring onion and coriander to the stock just before pouring the broth over the wontons.
Banner and Image Credit: BBC