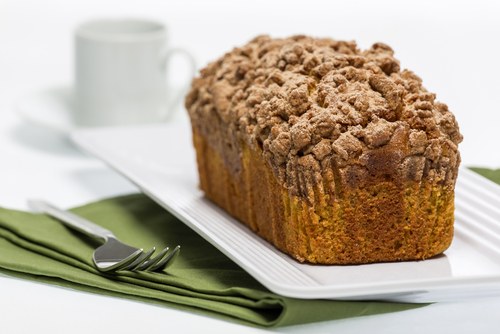 Streusel verses Strudel
In baking and pastry making, a 'streusel', not to be confused with a strudel, is a crumbly sugary topping that is baked on the top of the likes of a muffin, loaf, pie or cake.  The streusel like the strudel originates from Austria, but also like the strudel many central European countries have their own version.
Here's a simple recipe to follow to make a streusel loaf:
Treacle and Walnut Streusel Loaf
Ingredients:
Filling and topping
100 g / 4 oz demerara sugar
25 g / 1 oz melted butter
100 g / 4 oz chopped walnuts
1 teaspoon ground cinnamon
Loaf
100 g / 4 oz black treacle
125 ml / ¼ pint milk
2 large eggs, beaten
250 g / 10 oz self-raising flour
50 g / 2 oz butter
100 g / 4 oz stoned dates, chopped
Method:
• Grease an 80o g (2 lb) loaf tin
• Mix topping and filling ingredients together
• Blend the treacle, milk and beaten eggs together
• Sieve the flour into a bowl, rub in the butter, then add the dates
• Make a well in the centre of the mix, pour in the treacle mixture and then blend
• Place half of mixture into a prepared tin and sprinkle with half of chopped walnuts
• Place the rest of the mixture into the cake tin and sprinkle on the remaining walnuts.
• Bake in an oven on Gas Mark 4 (180 deg C) for 1 hour.
• Take from oven and leave in the tin for 5 minutes. Turn out and leave to cool.
Have you enjoyed reading this article? If so, why not look up some of our other food features and menus in our Food & Drink section, by clicking on the provided link.