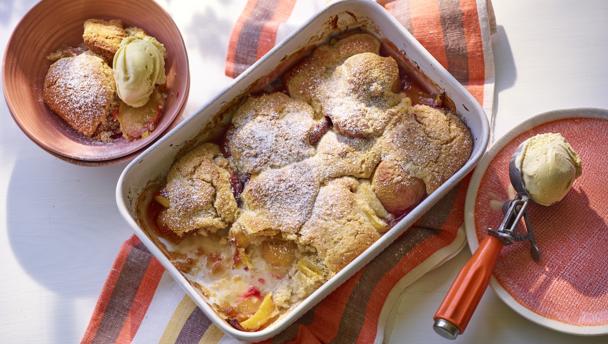 This is made possible by BBC Foods!
Ingredients
For the filling
8 peaches, stones removed and thickly sliced or diced into large pieces
1 tbsp cornflour
3 tbsp soft light brown or light muscovado sugar
1 lemon, zest, and juice
icing sugar, for dusting
vanilla ice cream or cream, to serve
For the topping
225g/8oz plain flour
100g/3½oz caster sugar
1 tsp baking powder
¼ tsp ground cinnamon
pinch salt
85g/3oz cold butter, diced, plus extra for greasing
150ml/5fl oz full-fat milk
1½ tsp vanilla bean paste (or vanilla extract)
Method
Before starting this recipe, make sure to preheat the oven to 200C/180C Fan/Gas 6.
Grease a 21cm baking dish and add the peaches. Mix the cornflour, brown sugar, and lemon zest in a small bowl.

Sprinkle over the peaches and use your hands to toss them together. Drizzle over the lemon juice.

To make the topping, place the flour, sugar, baking powder, cinnamon and salt in a large bowl and stir together.

Add the butter and rub it with your fingertips until no big lumps remain.

Reserve a tablespoon of the milk then mix the rest with the vanilla paste.

Drizzle over the flour mixture and briefly mix together with a cutlery or palette knife until the dry ingredients are all damp and resemble a soft, scone-like dough.

Scoop 8 heaped spoonfuls on top of the fruit in the baking dish and roughly brush with the reserved milk.

Bake for 35 minutes and baked through.

Dust with the icing sugar and serve the cobbler straight from the oven with ice cream or cream.
Banner and Image Credit: BBC