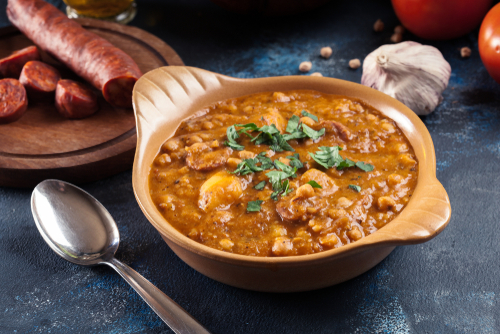 Recipe for Spanish Chickpea and Chorizo Stew
Did you know?
Chickpeas
Archaeological evidence found in Eygpt supports the fact that chickpeas have been cultivated for at least 7,500 years.
Originally found in the Mediterranean, North Africa and the Middle East region, chickpeas are now popular across the world.
Chickpeas are a highly nutritious legume, being high in protein, dietary fibre, folic acid, amino acids, iron and phosphorous. They also provide moderate amounts of zinc, thiamin, vitamin B6, and magnesium.
There are more than 12 million tonnes of chickpeas produced annually across the world. India produces around 70% of the overall total.
Chickpeas, amongst others, are also known as ceci beans, Indian peas, bengal grams, chana, kadale kaalu, sanaga pappu, and shimbra. In Spain, they are known as 'garbanzos'.
Chickpeas are the main ingredient in the North African/Middle Eastern dish of hummus and commonly found in the Indian dish of daal.
Chorizo
The first known written reference to chorizo as a Spanish sausage was in 1726.
Chorizo is a fermented, cured, smoked pork sausage, that can be sliced and eaten without cooking.
Chorizo is often added as an ingredient to flavour many other Spanish dishes.
Chorizo gets its distinctive smoky flavour and deep red colour from the ground spice, paprika (pimentón).
Spanish Chickpea and Chorizo Stew
This dish is definitely not one for those looking
Here's a easy to follow recipe for the hearty dish of "Spanish chickpea and chorizo stew" or to give it its Spanish name, "Cazuela de garbanzo y chorizo"

Ingredients
3 tbsp (45 ml) olive oil
2 bay leaves
1 large onion, finely chopped
1 lb (450 g) uncooked chorizo sausages
1 lb (450 g) tomatoes, roughly chopped
6 garlic cloves, finely chopped
¾ pint (450 ml) water
4 tbsp (60 ml) parsley, freshly chopped
12 oz (350 g) new potatoes, washed and quartered
Pinch of dried chilli flakes
Pinch of paprika
8 oz (225 g) dried chickpeas
Salt and ground black pepper, to taste
Garnish
A drizzle of extra-virgin olive oil
Pinch of fresh parsley
Tip: It's obviously possible to use tinned chickpeas and cooked chorizo sausages but the alternative as listed will give the best results.
Method
Step 1 – Put the chickpeas into a large bowl, cover and leave to soak overnight.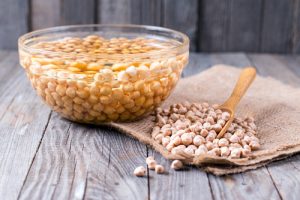 Step 2 – The next day, drain the chickpeas and place in a large pan with a good measure of water. Cover and bring to boil, then simmer for 2 -3 hours until tender. Remove scum as it forms and add more water, if necessary. Drain off the chickpeas but retain the water as stock.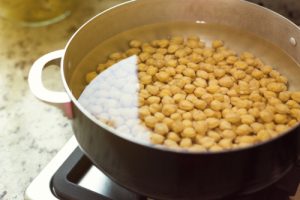 Step 3 – Heat the olive oil in a large, deep, frying pan. Add the chorizo sausage and fry on medium heat for about 5 minutes, until slightly brown. Remove from pan and set aside.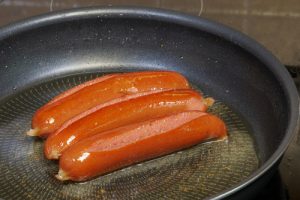 Step 4 – Add the chilli flakes and garlic to the frying pan and briefly cook. Stir in the paprika, chopped tomatoes, onion, chickpeas, potatoes, sausages and bay leaves.
Step 5 – Pour in about 3/4 pint (450 ml) of the chickpea stock and the water, adding the salt and pepper to taste.
Step 6 – Bring to boil, then reduce the heat and simmer for 45 – 50 minutes, stirring gently until potatoes are tender and the stew has thickened.
Step 7 – Add the chopped parsley, then ladle the stew into 4 large warmed bowls. Drizzle each serving with a little extra-virgin olive oil and a pinch of fresh parsley.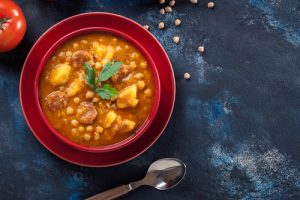 Serves 4 – each serving has approximately 640 kcal, Protein 21 g, Carbohydrate 42 g, Fat 44 g, Fibre 6 g.
Have you enjoyed reading this article? If so, why not look up some of our other food features and menus in our Food & Drink section, by clicking on the provided link.