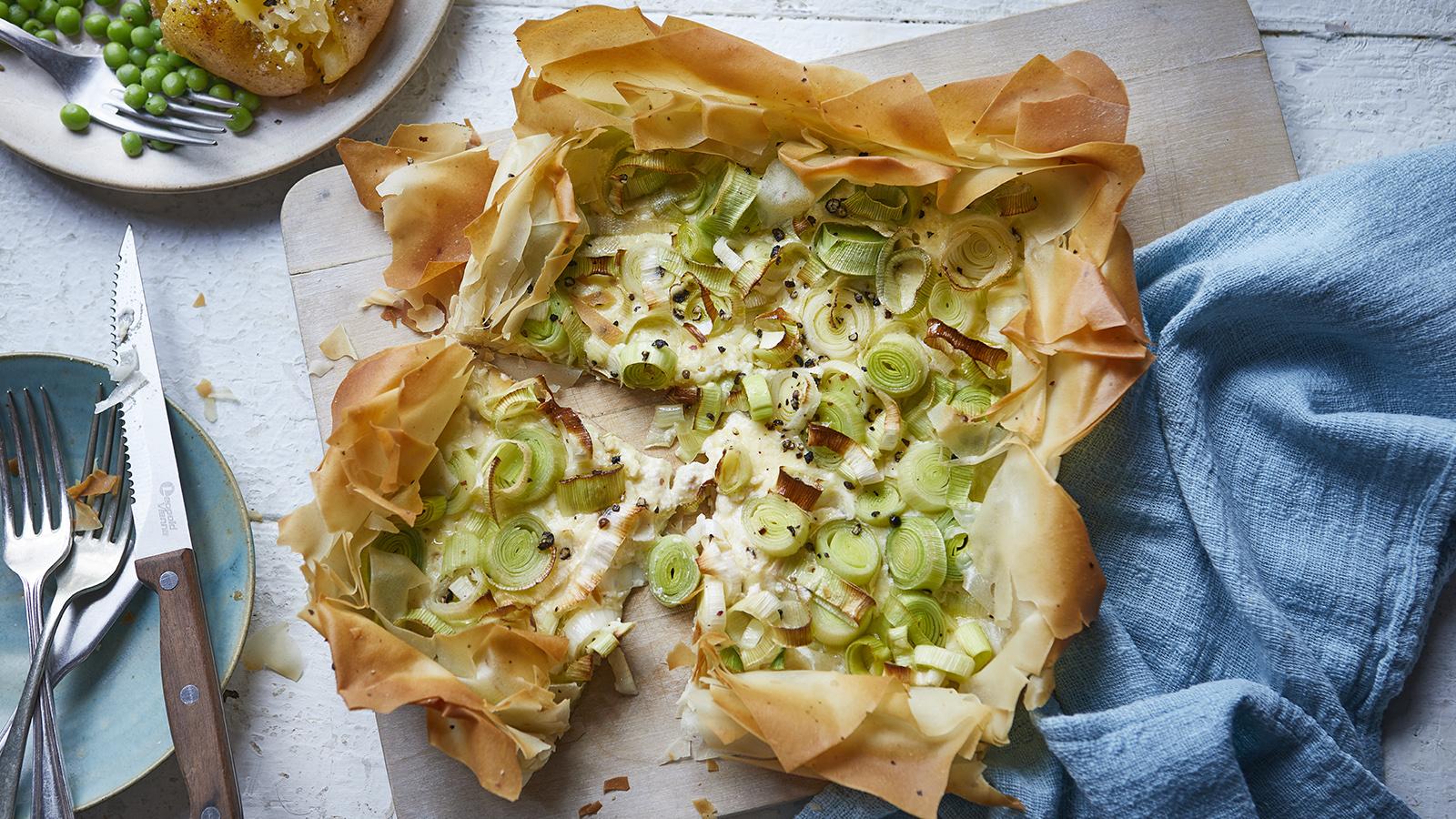 This is made possible by BBC Foods!
Ingredients
1½ tbsp olive oil, plus extra for greasing
4 sheets filo pastry, roughly half a pack
100g/3½oz mature cheddar, finely grated
5 tbsp single cream
1 large leek, trimmed and very thinly sliced
salt and black pepper
To serve (optional)
4 medium potatoes, well-scrubbed
300g/10½oz frozen peas
Method
Before starting this, make sure to preheat the oven to 200C/180C Fan/Gas 6.
Lightly oil a 20cm/8in square cake tin with a removable base.
If using, rub the potatoes with a thin layer of oil, and sprinkle with salt.
Prick them all over with a fork and bake in the oven for 45 minutes.
Meanwhile, make the tart. One at a time, lightly brush a filo pastry sheet with a little of the oil and place in the tin, pressing gently into the base and up the sides of the tin.
Arrange the next lightly oiled pastry sheet at right angles to the first. Repeat with two more layers, leaving a flat base and frilly edges.
Mix the cheese with the cream to make a soft paste.
Drop teaspoonfuls of the paste over the pastry case and spread lightly with the back of a spoon, taking care not to tear the pastry.
Top the cheese mixture with the sliced leek and season with a little black pepper.
If the pastry edges hang over the tin too much, roll loosely back towards the filling.
Bake the tart for about 25 minutes.
Remove from the oven to cool slightly.
If using, cook the peas according to the packet instructions, then drain.
Serve a slice of tart just as it is, or with a jacket potato and the peas alongside.
Banner and Image Credit: BBC