Here is a great recipe for bonfire night to keep everyone happy…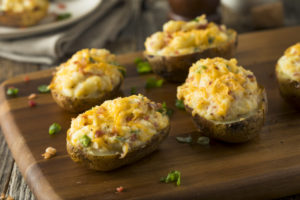 Ingredients
4 medium baking potatoes
2 tbsp olive oil
25g butter
1 large onion (finely sliced)
6 slices smoked streaky bacon (chopped)
2 tbsp double cream
200g mixed good melting cheese
chopped parsley to serve.
Method
Heat oven to 200C/180C fan/gas 6. Prick the potatoes all over with a fork, then rub with half the oil, some sea salt and black pepper. Arrange on a baking tray and bake in the oven for around 1 hour 15 minutes, until their skins are crisp and they are completely tender when prodded.
Meanwhile, heat the remaining oil and half of the butter into a frying pan add the onion, cook for 15-20 minutes until soft and golden. Remove from the pan and set aside. Add the chopped bacon and fry until it is crisp. When cooked place the bacon onto kitchen paper to soak the excess oil.
Halve each potato lengthways, then scoop out most of the potato into a bowl, leaving a potato skin shell with a thin layer of potato. In the bowl, crush the potato with the remaining butter and the double cream, season with salt and pepper. Fold through the onion, bacon, three-quarters of the cheeses and half the parsley. Spoon back into the potato shells and top with the remaining cheese. Transfer to the baking tray and return to the oven for 10-15 mins, until melting and golden. Sprinkle with the remaining parsley.