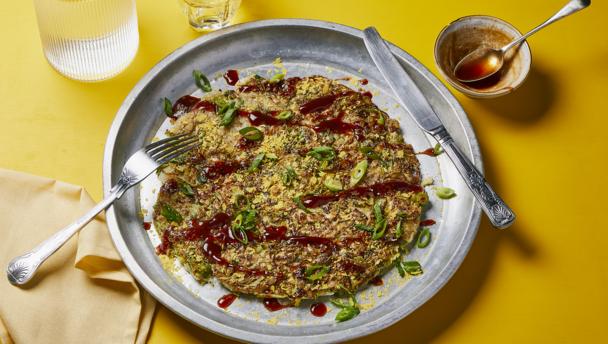 This is made possible by BBC Foods!
Ingredients
2 tbsp linseeds, also known as flaxseed
100g/3½oz plain flour
¾ sweetheart cabbage, thinly shredded (approximately 150g/5½oz)
2 spring onions, thinly sliced
2 tbsp vegetable oil
1 tbsp tomato ketchup
2 tsp soy sauce
2 tsp nutritional yeast flakes, to garnish
Method
Grind the linseeds with a pestle and mortar, or pop them in a sandwich bag and bash with a rolling pin. In a small bowl, mix 1 tablespoon linseeds with 5 tablespoons water.

Set aside until there is no visible water and the mixture appears thickened and slightly gelatinous.

Place the linseed mixture in a bowl with the flour. Gradually stir in 100ml/3½fl oz water until you have a smooth batter.

Add the cabbage and most of the spring onions, reserving a small handful for the garnish. Mix thoroughly to coat all of the vegetables.

Heat the oil in a large frying pan until shimmering hot. Add the cabbage mixture and push it into an even layer.

Cook for 3 minutes on the first side, regularly shaking the pan – it should be ready to flip when the whole pancake moves when you shake it, showing that it has crisped up underneath and is no longer sticking to the pan.

Flip in one smooth motion (or use two spatulas to help flip it). If you're nervous about flipping, put another frying pan or a plate on top and flip the whole thing over.

If it breaks slightly, just uses your spatula to press it down into a circle shape again. Cook the other side for 2–3 minutes.

Meanwhile, mix together the tomato ketchup and soy sauce in a small bowl.

To serve, slide the pancake onto a plate, drizzle with the ketchup sauce and sprinkle with nutritional yeast and the reserved spring onions.
Banner and Image Credit: BBC