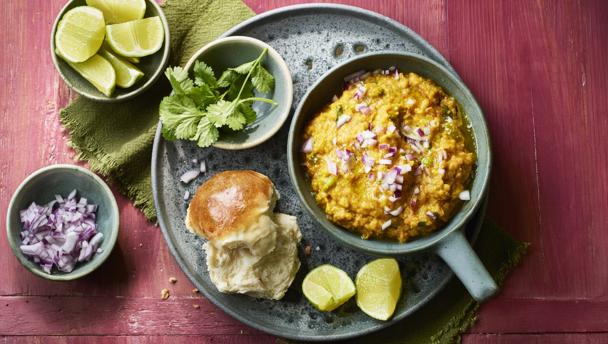 This recipe is courtesy of BBC GoodFood.
Ingredients
For the bhaji
400g/14oz potatoes (peeled weight), any variety, chopped into small chunks
200g/7oz carrots (peeled weight), chopped into small chunks
150g/5½oz cauliflower florets, cut into small chunks
100g/3½oz peas
50ml/2fl oz sunflower oil
1 tsp cumin seeds
300g/10½oz red onions (peeled weight), finely chopped
5 large garlic cloves, finely chopped
15g/½oz fresh root ginger, peeled and grated
400g/14oz tomatoes, finely chopped
2–3 green chilies, chopped and seeds left in
1 tsp salt
1–2 tsp tamarind paste (diluted in 100ml/3½fl oz water)
1 tsp red Kashmiri chili powder
1 tsp turmeric
1 tsp ground cumin
1 tsp ground coriander
2 green peppers, seeds removed, chopped into small chunks
2 tsp pav bhaji masala (available from Asian shops or see recipe below)
50g/1¾oz salted butter
a handful of fresh coriander, chopped
1 lime, juice only
For the pav bhaji masala spice blend (optional – see recipe tip)
1 tsp chili powder
2 tsp coriander seeds
2 tsp cumin seeds
8–10 black peppercorns
5cm/2in piece cassia bark or cinnamon, broken into pieces
6 whole cloves
2-star anise
1 tsp fennel seeds
4 black cardamom pods
1 tsp ground ginger
1 tsp turmeric
1 tsp amchur (mango powder)
Method
To make the masala spice blend, place all of the spices in a blender or spice grinder and this should turn powdery. Keep in an airtight, clean jar and use when required.

To make the bhaji, place the potatoes, carrots, cauliflower, and peas in a saucepan, ensure this is rather large or this won't fit in, cover with water and cook until soft. Drain and set aside.

Heat the oil in a separate saucepan overheat, make sure this is only on medium heat. Once hot, add the cumin seeds. As soon as they start to pop, add 250g/9oz onions and cook for 5 minutes. Add the garlic and ginger and cook for another minute. Add the tomatoes, chilies, and salt and cook for a further 4–5 minutes. Add the tamarind water, chili powder, turmeric, ground cumin, and ground coriander. Mix well and cook for a few minutes. Make sure the tomatoes are properly broken down before adding the green peppers and pav bhaji masala. Cook until the oil start to separate, stirring occasionally so the mixture does not burn. Add the cooked vegetables, stir and cook for 10 minutes over low heat. Once the vegetables are well coated, blend the mixture with a hand blender until all the vegetables are smooth. Add 25g/1oz butter, half of the chopped coriander, and half of the lime juice and mix.

To serve, ensure the bhaji is warm and add the remaining butter and onions. Serve in soft rolls finished with a squeeze of lime juice and a sprinkle of coriander to each individual serving.
Banner and Image Credit: BBC