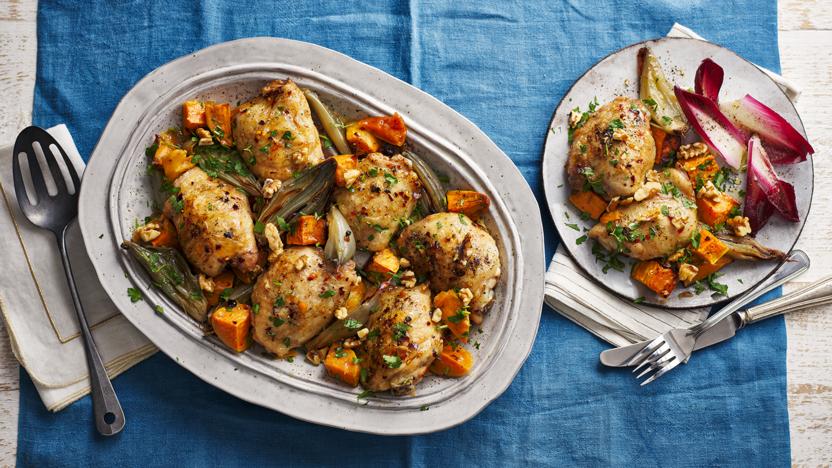 This recipe is courtesy of BBC GoodFood. 
Ingredients
8 chicken thighs, skin on, bone in
4 small sweet potatoes, peeled and cut into chunks
8 banana shallots, halved
½ tbsp extra virgin olive oil
2 tbsp honey
1 tbsp boiling water
1 lemon, zest and juice
½ tsp Aleppo pepper
small handful flatleaf parsley, roughly chopped
small handful toasted walnuts, roughly chopped
salt and freshly ground black pepper
bitter leaves, such as chicory, radicchio or curly endive, to serve
Method!
Preheat the oven to 200C/180C Fan/Gas 6. Make sure to arrange the chicken thighs, skin side up, the sweet potato chunks and shallots in a large roasting tin. Put olive oil and season well with salt and pepper, preferable black pepper!
Whisk together the honey, boiling water, lemon zest and juice and the Aleppo chilli flakes, while leaving the chicken thighs put the oven so you can pour this over the chicken and sweet potatoes. Place in the oven and leave them for up to 40 minutes.
Once out the oven, serve with some Salad and you may now have a Hot honey chicken and sweet potato traybake!