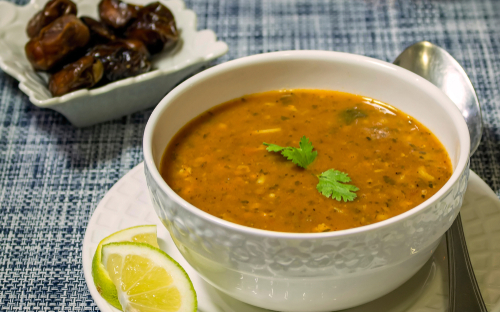 A recipe for Harira (Moroccan Spiced Soup)
Harira is a traditional Moroccan soup, which is popular as both a starter or as a snack. It is thought that the soup's name 'harira' may be derived from the Arabic words for heat (harrara) or spicy (harr). It's traditionally served in the evening during Ramadan, the religious Muslim festival that requires fasting during the day, although the soup is also eaten throughout the rest of the year. It can be made with meat, usually lamb, or as a vegetarian dish, but there are many variations.
Here's an easy-to-follow and inexpensive recipe that makes a vegetarian version of the wholesome and tasty soup:
Moroccan Spiced Soup
Ingredients
1 large chopped onion
2 pints (1.2 litres) of vegetable stock
1 tsp ground cinnamon
1 tsp turmeric
1 tbsp grated ginger
Pinch of Cayenne pepper
2 large diced carrots
2 diced celery sticks
400 g can of chopped tomatoes
1 lb (450 g) diced floury potatoes
400 g can of drained chickpeas
2 tbsp (30 g) freshly chopped coriander
1 tbsp (15 g) lemon juice
5 strands of saffron
Salt and ground black pepper
Wedges of lemon, to serve (optional)
Method
Place the chopped onions in a large cooking pot adding ½ pint (300 ml) of vegetable stock. Bring the mixture to the boil and simmer for 10 minutes. Next, mix the cinnamon, turmeric ginger, cayenne pepper with 2 tbsp (30 ml) of stock to form a paste. Stir the paste into the onion mix adding the carrots, celery and remaining vegetable stock.
Bring the mixture to the boil, reduce the heat, then cover and gently simmer for 5 minutes. Add the tomatoes and potatoes to the mixture, then cover and gently simmer for around 20 minutes. Add the saffron, chickpeas, coriander and lemon juice. Season to taste with the salt and pepper, then serve while piping hot. Fry the lemon wedges and add to the soup as a garnish, as an optional addition.
Serves 6 – each serving contains approximately 160 k/cal, 7 g protein, 5 g fibre and 28 g carbohydrate
Have you enjoyed reading this article? If so, why not look up some of our other food features and menus in our Food & Drink section, by clicking on the provided link.