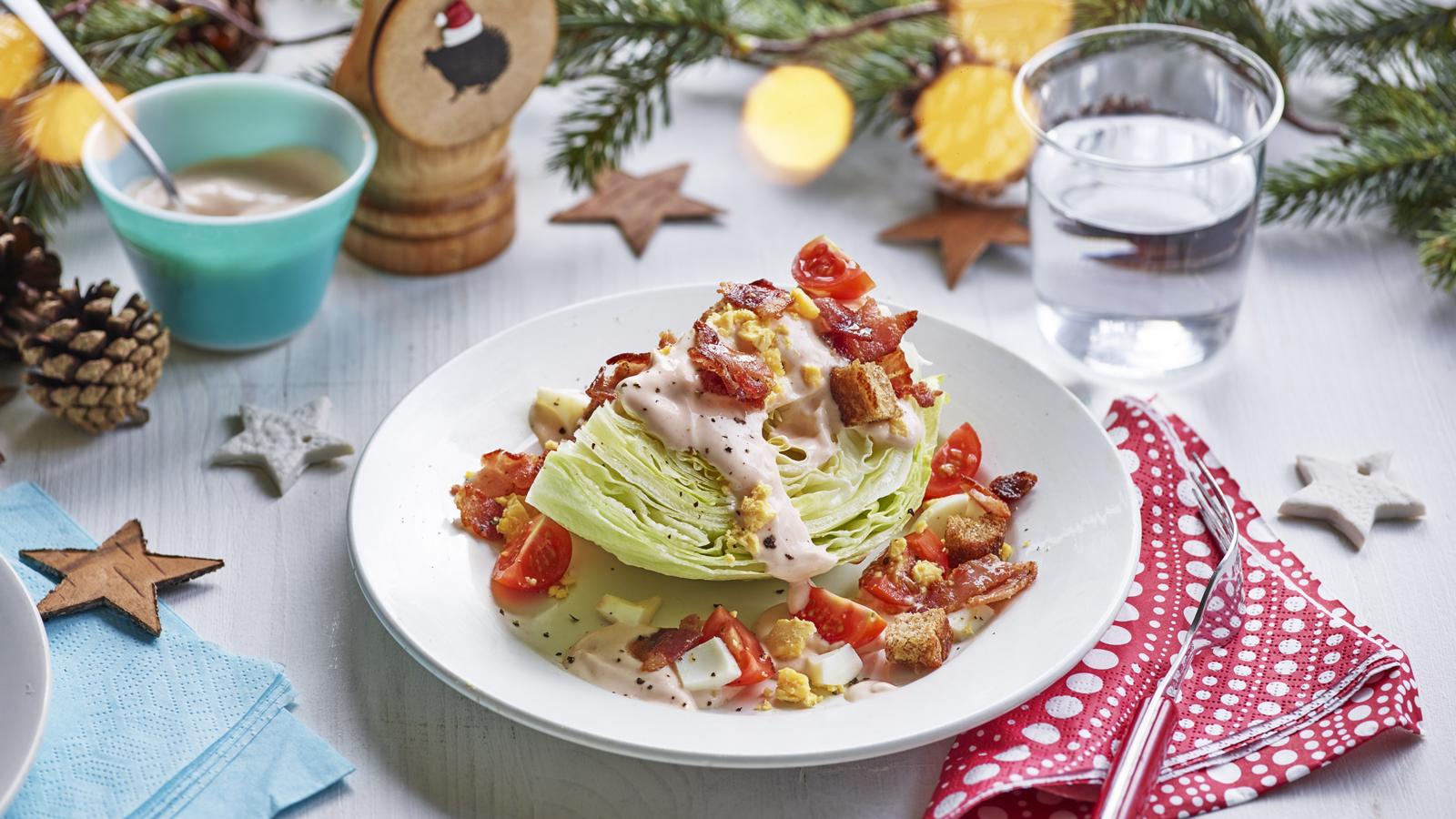 This is made possible by BBC Foods!
Ingredients
4 medium eggs
1 tbsp vegetable oil
4 rashers bacon, ideally smoked, thinly sliced
1 medium slice bread, cut into small cubes
1 iceberg lettuce
12 cherry tomatoes, quartered
ground black pepper
For the dressing
7 tbsp (around 85g/3oz) mayonnaise
1 tbsp tomato ketchup
Method
To boil the eggs, fill a small saucepan a third full with water, cover with a lid and bring to the boil.

One at a time, gently lower the eggs into the water, reduce the heat slightly and cook for 9 minutes.

Drain, then plunge into a large bowl or saucepan of cold water and leave to cool.

Pour the oil into a frying pan and place over a medium heat. Add the bacon and cook for 5 minutes.

Transfer the bacon to a plate, leaving as much of the fat as possible in the frying pan.

Return the pan to the heat and fry the cubes of bread for 3–4 minutes.

Turning regularly until browned on all sides.

Peel the eggs, then place on a board and roughly chop.

Take any loose or damaged leaves off the lettuce. Wash the lettuce in cold water and drain well.

Trim the root end then cut into quarters. Slice off the root part of each quarter without allowing the leaves to separate.

Divide the lettuce wedges between four plates.

Mix the mayonnaise with the ketchup in a small bowl with 4 teaspoons cold water to make a smooth sauce.

Drizzle the sauce over each wedge. Scatter the tomatoes, eggs, bacon and croûtons on top.

Season with ground black pepper and serve.
Banner and Image Credit: BBC