A Recipe for Chiang Mai Noodle Soup
Noodle soup is regarded as one of Thailand's signature dishes. However, it's also popular throughout almost the whole of southeast Asia. In Thailand, you'll find noodle soup being served at almost every traditional food outlet. It can probably claim the title as being the country's most popular street food. There are a great variety of noodle soups throughout the country with many having a regional identity.
One such soup is 'khao soi' which is associated with northern Thailand but a very similar dish can also be found in Myanmar (Burma) and Laos. The name 'khao soi' translates to English as 'cut rice', as originally it was rice noodles that were used in the dish as opposed to the now more popular egg noodles. It was customary that the rice noodle dough was spread out on a cloth before being stretched over a vat of boiling water. Once the dough sheet had been suitably steamed, the large noodle was then rolled and 'cut' with scissors. However, another theory is that 'khao soi' is simply a corruption of the Burmese phrase for curried noodles, 'kao hswè'.
As with many cuisines around the world, Thailand has a number of variants for many of its dishes, including 'khoa soi'. *Chiang Mai Noodle Soup is one such variation, so here's a no-nonsense and easy to follow recipe for the popular Northern Thai version of the dish:
(*Chiang Mai – Thailand's second city, after Bangkok, and the de facto capital of the North)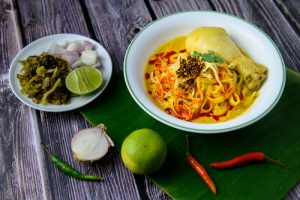 Chiang Mai Noodle Soup:
Ingredients
2 tbsp (30 ml) Thai red curry paste
1 pint (600 ml) coconut milk
1 tsp (5 ml) ground turmeric
1 pint (600 ml) chicken stock
4 tbsp (60 ml) fish sauce
1 tbsp (15 ml) dark soy sauce
1 lb 4 oz (600 g) *chicken thighs
1 lime, juice of
1 lb (450 g) fresh egg noodles, blanched
Salt and ground black pepper, to taste
*authentically with skin and bone, but if preferred, remove and cut into pieces
Garnish
Garnish with some (or all) of the following, as preferred:
Coriander leaves
Fried garlic, sliced
Red Asian shallots, chopped
Fresh red chilli, chopped
Lime wedges
Chilli paste (or sambal oelek)
Pickled mustard leaves, finely chopped
Crispy wonton noodles
Method
Step 1 – Pour about 200 ml of the coconut milk into a wok (or large heavy pan). Bring the liquid to a boil over medium heat, stirring frequently until the milk just begins to separate.
Step 2 – Add the curry paste, then the ground turmeric, stirring the ingredients well until the mix is fragrant.
Step 3 – Add the chicken and cook for about 2 minutes making sure each piece is thoroughly coated with the paste.
Step 4 – Add the remaining coconut milk, chicken stock, fish sauce, and soy sauce. Season with salt and pepper to taste. Stirring frequently, bring to the simmering point, then lower the heat and cook gently for 7 – 10 minutes.
Step 5 – Reheat the egg noodles in boiling water, drain them, and then divide them between four large warmed bowls. Divide the chicken pieces between the bowls and ladle in the hot soup.
Step 6 – Top each serving with some or all of the garnishes listed above, as preferred.
Serves 4 – Each serving contains approximately; 670 kcal, Protein 40 g, Carbohydrate 90 g, Fat 18 g, Fibre 3 g
Have you enjoyed reading this article? If so, why not look up some of our other food features and menus in our Food & Drink section, by clicking on the provided link.