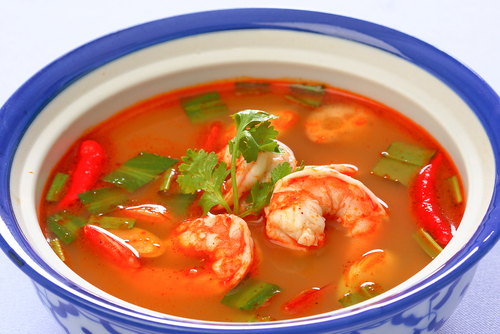 A Recipe for Tom Yam Goong
Tom Yam (or Tom Yum) Goong is a hot and sour prawn soup that is considered by many to be Thailand's most iconic dish. The Thai word "tom" refers to the boiling process, as in the making of a broth, while "yam" refers to a spicy and sour salad. Thus, tom yam is a soup characterised by its distinctive hot and sour flavour, which is derived from the generous amount of fresh herbs and spices that are used in its preparation.
Ingredients for Tom Yam traditionally include the likes of lemongrass, kaffir lime leaves, galangal, lime juice, fish sauce and red chilli peppers. The soup also contains a protein source, which can be chicken or pork. However, it is more usually made with "goong" (or gung), which translates to English as prawn or shrimp.
A few tips from Thailand
Traditionally, the lemongrass, galangal and kaffir lime leaves are left in the soup as garnish but are definitely not meant to be eaten. However, you could remove all the herbs once the infusion process has finished, just before serving.
It's usual for the prawns to be served with their heads and shell intact, but they are normally deveined, especially if large.
In Thailand, tom yam is most often served as an accompaniment to a meal, rather than as a main meal in itself. However, when it is eaten as a main, it's normally with a serving of rice.
Thai fish sauce (nam pla) and chilli paste (nam prik pao) should be readily available in most supermarkets or specialist Asian stores.
Here's a (fairly) authentic recipe for the classic Thai soup:
Tom Yam Goong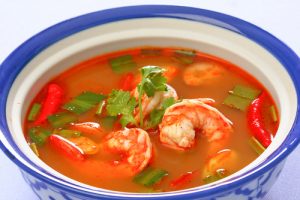 Ingredients
12 oz (350g) whole fresh prawns
1 ½ pints (675 ml) shrimp stock, chicken stock, or water
2 stalks of lemongrass
4 slices of galangal, thickly cut
2 shallots, peeled and crushed
1 tsp coarse sea salt
12 oz (300 g) straw mushrooms, washed and halved
5 cherry tomatoes, halved
5 kaffir lime leaves, roughly torn
2 oz (60 g) fresh coriander, roughly chopped
2-5 Thai bird's eye chillies, seeded and shredded, to taste
1 tbsp (15 ml) Thai fish sauce
2 tbsp (30 ml) lime juice
1–2 tsp sugar
1 garlic clove, finely chopped
1 tbsp (15 ml) Thai chilli paste (nam prik pao)
Method
Step 1 – Devein the prawns, keeping the head and shell intact, or remove, if preferred.
Step 2 – If you remove the heads and shells, you can make your own prawn stock by boiling them in water for about 5 minutes. Otherwise, add the stock or water to a large pan and gently simmer.
Step 3 – Add lemongrass, galangal, two-thirds of the kaffir lime leaves, shallots and salt into your stock or water. Bring to the boil, then leave for a minute or so before adding the mushrooms, garlic, tomatoes and sugar.
Step 4 – Bring to the boil and simmer for about 20 minutes so as infuse the herb mix into the stock. Then, add the prawns.
Step 5 – Just as the prawns turn pink, add the rest of the fresh Kaffir lime leaves and turn off the heat.
Step 6 – Season with fish sauce, lime juice, chillies, chilli paste and coriander. Serve immediately in warmed bowls.
Serves 4 – Each serving contains approximately 230 kcal, Protein 34 g, Carbohydrate 17 g, Fat 4 g.
Did you know?
"Tom Yum Goong" is the title of a Thai action film, made in 2005, starring Tony Jaa. The film is a showcase for Khun (Mr) Jaa's martial art skills, much in the way that "Enter the Dragon" was for Bruce Lee. While any mortal would obviously struggle to emulate the late great enigmatic Lee, Tony doesn't do a bad job. The film was distributed as the 'Warrior King' in the UK, and as 'The Protector' in the USA. Tom Yum Goong 2 was made in 2013 by the same team.
Have you enjoyed reading this article? If so, why not look up some of our other food features and menus in our Food & Drink section, by clicking on the provided link.