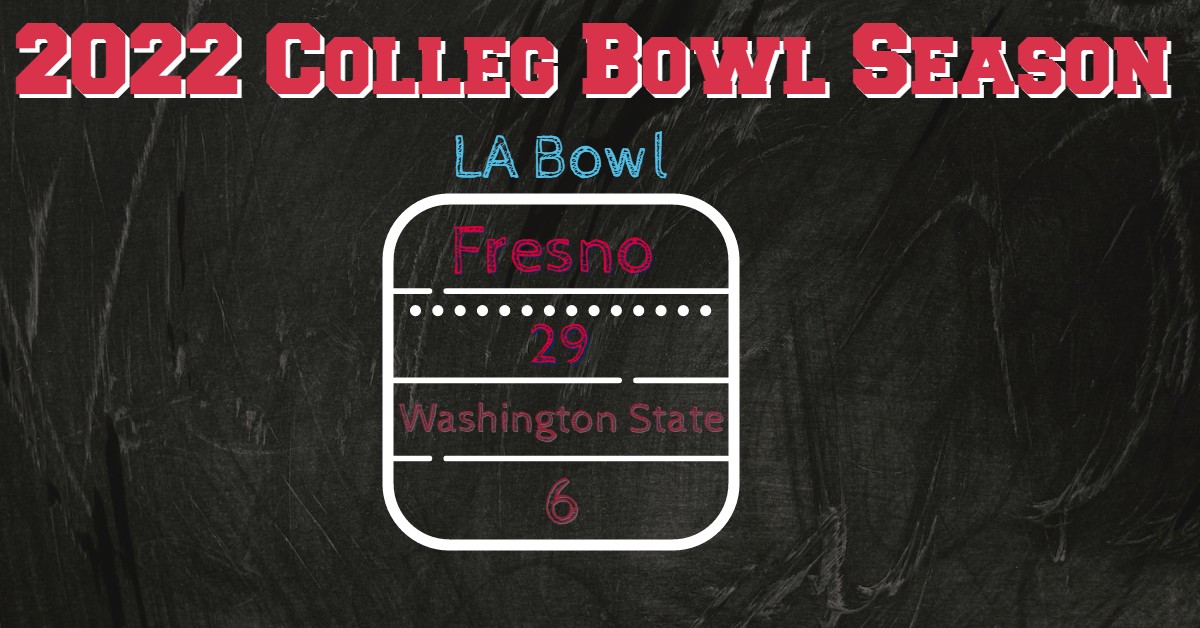 The LA Bowl was on our twelve must-watch bowl games, however, it turned out to deserve its place not because it was a close one, but because the Bulldogs made history! Freson became the first-ever FBS team to overcome a 1-4 start to finish with double-digit wins.
As a plus, they did it in some style thanks to a career night by RB Jordan Mims. Mims had 209 yards rushing and two TDs. He also had 27 yards receiving as The Mountain west Champions made short work of their more illustrious PAC 12 rivals.
Washington State just couldn't get anything going struggling to convert on third down a twice turning possession over on downs. They had struggled all year on the ground and this one was no exception. They could only muster 48 yards rushing and QB Cameron Ward spent most of his snaps running for his life. He ended up being sacked six times making it 46 on the season!
The Weekends Other Bowl Games
There were plenty of other Bowl games over the weekend headed by…
The Las Vegas Bowl
Oregon State 30 Florida 3
The honours went to the PAC-12 in this one with the Beavers completely shutting down Florida's run game on their way to a rare 10-win season. This was their first such season since 2006 and only the third time in programme history. The score was never in doubt and as it wore on the main point of interest was whether they would shut Florida out.
The Gators currently hold the record for most games without suffering such ignominy and it took a field goal with 37 seconds remaining to keep the streak going.  The season had started so well for Florida, however, when SEC play started in earnest they faded fast and it looks like they have a lot of rebuilding to do.
The Fenway Bowl
Louisville 24 Cincinnati 7
What a difference a year makes.  This time last year The Bearcats were basking in the glory of becoming the first Group of Five team to reach the CFP playoffs. However, in this one, they struggled to get into triple-digit yardage! Cincinnati finally ended up with 127 yards of offense and was never in the game despite Louisville turning the ball over four times.
The Cardinals won the game thanks to their one-two-punch running game with Maurice Turner doing the bulk of the work. He had 31 carries for 160 yards, while Jawhar Jordan had two TDs of 41 & 49 yards. Not a game that will live long in the memory outside of those two runs.
New Mexico Bowl
BYU 24 SMU 23
BYU held on in this one thanks to a missed 2pt conversion attempt by SMU who rallied in the fourth quarter. The Cougars had no success throwing the ball and got the win thanks to an interception TD in the third quarter which they followed up with a (surprise surprise) rushing TD to take a 14-point lead. However, a furious late rally by SMU saw them have the chance for victory.
BYU ended up with 47 yards passing and 133 yards less of offense overall, however, their name will go into the record books.
Lending Tree Bowl
Southern Miss 38 Rice Owls 24
Southern Miss took the honours in this one thanks to three late TDs. This after Rice had rallied from 17-3 down to take a 24-17 lead. The game a Sun Belt v CUSA clash turned out to be a great advert for both conferences with Rice who were not officially Bowl eligible belaying their status with three-quarters of decent football.
Frisco Bowl
Boise State 35 North Texas 32
This ended up being the best game of the weekend and although the Mountain West ended up with another Bowl win it was a whole lot closer than expected. The game had multiple lead changes and for a moment it looked like the Mean Green could pull off the shock. Anyway rather than tell, let's show via the highlights below.
Shame only 12,211 bothered to turn out for the game especially given it was played in Texas. Still, it is a big state we suppose.
So it was a good weekend for the Mountain West with two nice wins and with the raft of defections from the AAC imminent it is set to become the no. 1 conference in the G5. Before you go check our other 2022 Bowl posts.