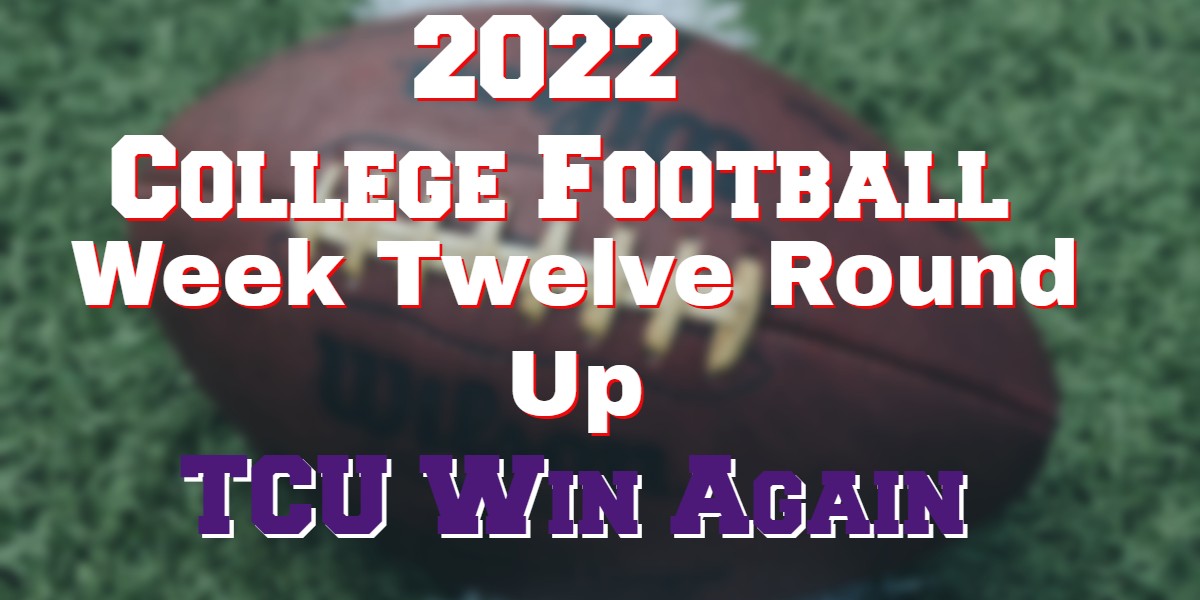 One week to go in the regular season and once again the field for the CFP semi-finals shrunk as five of the top 16 ranked teams lost. Overall eight CFP-ranked teams lost, and a couple needed last-minute field goals to avoid adding to the total.
Elsewhere the race for the Cotton Bowl took a nice twist and and it will be worth tuning in to watch Mid Am football midweek as one of their conference final places is now a one-game shootout.
Anyway here are some of the weekend highs & lows…
The Winners
The PAC-12 negotiated a tricky-looking weekend. Now their last great hope USC is looking well-placed to grab a playoff spot. They will need to win out, which is far from certain however it is likely that a one loss Pac-12 Champion will edge out either Michigan or Ohio State who meet next week. They have also put the pressure back on TCU who can't afford a slip-up.
Speaking of TCU. They are now 11-0 thanks to a last-second Field goal which gave them a one-point win over Baylor. The ending was almost surreal as they scrambled to get the field goal unit on before time expired. They have been riding their luck all year, however, their destiny is now firmly in their own hands. Win out and they are in!
Michigan similarly rode their luck a bit against Illinois
Not So Good
Tennesse's great season came to a shuddering halt against South Carolina. They were double-digit favourites but ended up on the wrong end of a 63-38 scoreline. Worse still Hendon Hooker had to go off with an injured leg.
Joining them in despair is North Carolina, who still had a puncher's chance at making the final four. However, that ended at the hands of then 4-6 Georgia Tech who came back from 17-0 down to win it with a fourth-quarter TD. This also spells bad news for Clemson who they will meet in the ACC Conference Final. Even if the Tigers win out the gloss will well and truly be taken off their 12-1 season. Unless Georgia Tech upsets Georgia next week. Then all bets are off!
The final team wishing they could play the game again is UCF, who looked well-placed to reach the AAC conference final after last week's win over Tulane. However, their Loss to Navy leaves them on the outside for now. Still, there is a scenario that gets them in so next week will be fun in the American.
Anyway here are the weekend's top 25 results and a few others worthy of mention…
ACC
Louisiana 17 @ 20 Florida State 49
Miami 10 @ 9 Clemson 40
Georgia Tech 21 @ 13 North Carolina 17
Big Ten
Illinois 17 @ 3 Michigan 19
Wisconsin 15 @ Nebraska 14
Northwestern 9 @ Purdue 17
2 Ohio State 43 @ Maryland 30
14 Penn State 55 @ Rutgers 10
Iowa 13 @ Minnesota 10
Big 12
4 TCU 29 @ Baylor 28
19 Kansas State 48 @ West Virginia 31
Texas Tech 14 @ Iowa State 10
Oklahoma State 13 @ Oklahoma 28
PAC 12
7 USC @ 16 UCLA
Colorado @ 15 Washington
10 Utah @ 12 Oregon
23 Oregon State 31 @ Arizona State 7
SEC
Austin Peay 0 @ 9 Alabama 34
1 Georgia 16 @ Kentucky 6
5 Tennessee 38 @ South Carolina 63
14 Ole Miss 27 @ Arkansas 42
UAB 10 @ 7 LSU 41
Independents
Boston College 0 @ 18 Notre Dame 44
Utah Tech 26 @ BYU 52
An expected easy win for BYU but of significance as it gets them bowl eligible. ESPN will be pleased as they have a tie-in with the Cougars for 2022. Which of their sponsored bowls they end up in though is still not certain.
The Race For The Cotton Bowl
UCF is now in pole position thanks to their win at Tulane. If they win the Conference final they will be back in a New Year Bowl for the first time since 2018 when they lost in the Fiesta Bowl to LSU after another unbeaten regular season.
Right now though the race is still wide open though with Tulane, Cinncinati, Houston & SMU still in the race. The final race is going to be compelling viewing for the neural fan.
Group of Five Divisional Battles
Still a bit of interest here and always the chance that the likes of Coastal Carolina or even UTSA could edge out the AAC champion for the Cotton Bowl place.
American
SMU 24@ 21 Tulane 59
Navy 17 @ 17 UCF 14
Houston 42 @ East Carolina 3
Cincinnati 22 23 @ Temple 3
C- USA
UTSA 41 @ Rice 7
Florida Atlantic 21 @ Middle Tennessee 49
UTSA is officially in the C-USA conference final. Florida Atlantic's slim hopes of joining them ended with Saturdays loss. So now they will face either North Texas or Western Kentucky, neither of who had a conference game this week.
Mountain West
San Diego State 34 @ New Mexico 10
Boise State 20 @ Wyoming 17
San José State 31 @ Utah State 35
Fresno State 41 @ Nevada 14
Boise will play in the Conference Final where they will meet Fresno.
Mid AM
Bowling Green 42 @ Toledo 35
Ohio 32 @ Ball State 18
Akron @ Buffalo Postponed
Toledo clinched the MAC West last week fortunately for them. Bowling Greens' win has set up a thrilling winner takes all meeting with Ohio next week to end regular season play.
Sun Belt
South Alabama 27 @ Southern Miss 20
UL Monroe 16 @ Troy 34
Georgia State 40 James Maddison 42
Coastal Carolina had clinched the Sun Belt East and will play Troy. James Maddison is not bowl-eligible this year but has had a great first season in the FBS.
On The Up
Spencer Rattler. Remember him? Well, he was pretty much drummed out of Oklahoma in 2021. Despite having a pretty good 2020 with them (including winning the Cotton Bowl)  he was benched six games in, despite the Sooners being unbeaten. Well on Saturday he threw for 438 yards and 6 TDs as the Gamecocks ended Tennessee's playoff hopes. They are 7-4 and will probably be heading for a better bowl game than the Sooners who have just scraped bowl eligibility.
Interesting One
Boston College 0 Notre Dame 44
What will the CFP committee make of Notre Dame this week? Could they end up with a New Years' Bowl bid despite their shakey start?
Still Unbeaten
We still have four unbeaten teams and they are likely to fill the CFP places this week, Michigan & Ohio State meet in their final regular season game so that one will be for all the marbles so to speak.
Big 12
TCU 11-0
Big Ten
Michigan 11-0
Ohio State 11-0
SEC
Georgia 11-0
Still Alive In The CFP
Surprisingly we can still make a case of sorts for 14 teams. Ok, some of these would need the stars to align big time but they are technically still in it. Will this be the year a two-loss team makes the final four?
ACC
Clemson 10-1
A 12-1 Conference Champion is in with a chance, but a two-loss one has little chance. They are going to meet in the ACC final so both need to focus on not losing before then.
Big 12
TCU 10-0
The Horned Frogs need to win out given the next-best team in the conference is currently 7-3.  They might sneak in as a 12-1 conference champion but given the SEC & Big Ten bias probably not
Big Ten
Michigan 11-0
Ohio State 11-0
The conference champion is in even with one loss. Either of them at 11-1 has a chance of being the fourth seed.
PAC 12
USC 10-1
A two-loss Pac-12 Champion is not getting in in our opinion so this leaves USC as their last great hope. They will need to win out and with their regular season games remaining being Notre Dame and UCLA, that's no gimmie.
SEC
Georgia 11-0
LSU 9-2
LSU has to win the conference championship. The CFP is not leaving the SEC champ out even with two losses. If Georgia wins it then Tennessee has a shot at the No four slot.
So ends our brief overview of week twelve.
You can check out our other 2022 Weekly Round Ups here