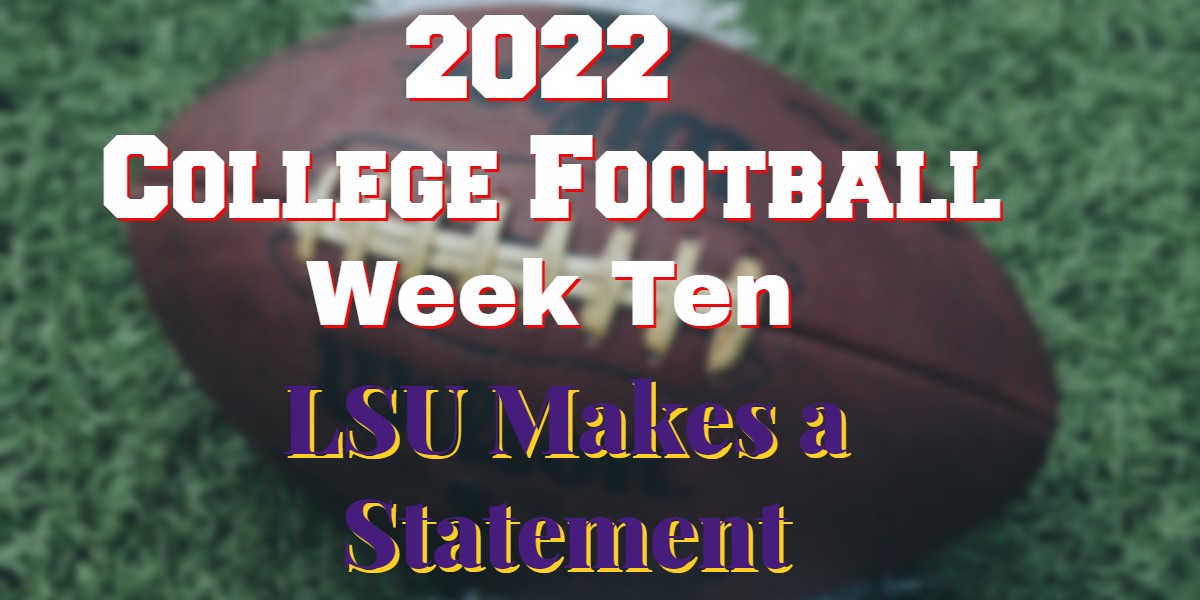 Week Ten had some huge games and as the title suggests not all of them went as expected. Carnage is a strong word but it aptly describes a weekend where 12 of the 24 weeks AP ranked teams lost. The ranks of the unbeaten teams shrank further too although with two unbeaten teams meeting some attrition was guaranteed. It also put a severe dent into the CFP hopes for two of its recent stalwarts too. Still, football can be a funny old game and we wouldn't completely rule Alabama & Clemson out just yet.
Anyway here are some of the weekend highs & lows…
The Winners
Georgia was getting a little disrespected coming into the weekend, but they reminded us all why they had been ranked No1 for s long. They shut down Tennesee's much-vaunted attack with some ease and the game was a lot more clear-cut than the final score suggests. This will not rule Tennessee out of the final four but they will now have to hope a few results go their way.
The night's other big game was also in the SEC and suddenly LSU have a real chance. They sneaked past Alabama in OT thanks to a 2pt conversion but style points don't matter in games of this magnitude. Only the win does and now only two tricky but winnable road trips stand between them and a place in the SEC Championship. Who saw this coming when they slumped to 4-2 back in early October?
TCU continued their pattern of coming from behind to win and at 9-0 they could end up in the top four this week. With only four unbeaten teams left (one of which is certain to lose) they are in a strong position and a place in the Conference final is all but assured.
Finally, Tulane continued their march towards the AAC title and a place in the Cotton Bowl with a routine win in Tulsa. They still have three tough games before they get there though starting with UCF this week. Still, for a team that was 2-10 last year, this is some turnaround.
Not So Good
Oklahoma State followed up last week's beatdown to Kansas State with an equally disappointing result against Kansas. Two weeks ago they were harbouring CFP thoughts but this week they will be lucky to be ranked in the top 25! How fortunes change.
Clemson has been a bit of an enigma all year, were they good or just lucky? Well, the answer is still not completely clear, however, it is leaning towards the latter. They were never really in the game against Notre Dame, however, the Irish are probably better than their 5-3 record suggests. This was a non-conference game so it hasn't hurt too much that way, but reputation-wise its painful. We can see a one-loss ACC champion being left out.
Anyway, the AP top 25 results are below:
All Ranked Games
2 Tennessee 13 @ 1 Georgia 27
6 Alabama 31 @ 15 LSU 32
20 Wake Forest 21 @ 21 NC State 30
Outside of the SEC games the night's only ranked game saw NC State keep their hopes of a prestigious bowl game alive with a decent win over Wake Forest. The Demon Deacons have lost their last two and have a tricky run-in. Just as well they are already bowl-eligible.
ACC
5 Clemson 14 @ Notre Dame 35
17 North Carolina 31 @ Virginia 28
22 Syracuse 9 @ Pittsburgh 19
Not a good week for the ACC. Their chances of putting a team into the final four took a dip with Clemson's loss. The Tar Heels' win at Virginia has put them in pole position for a shot at the Tigers in the Championship game. Both have lost to Notre Dame so how the Irish finish the season could be crucial to both.
Big Ten
2 Ohio State 21 @ Northwestern 7
4 Michigan 52 @ Rutgers 17
Michigan State 23 @ 14 Illinois 15
16 Penn State 45 @ Indiana 14
Michigan looked the part – well in the second half anyway. They have a couple of home games now before that winner takes all trip to Ohio State on 26th November.
Big 12
Texas Tech 24 @ 7 TCU 34
Texas 34 @ 13 Kansas State 27
18 Oklahoma State 16 @ Kansas 37
The race for the conference final is still open but Texas has second place for now. Nice to see Kansas get bowl eligible and at 3-3 in the conference, they could still theoretically sneak in. Who saw that coming?
PAC 12
24 Oregon State @ Washington
8 Oregon 49 @ Colorado 10
10 UCLA @ Arizona State
California @ 9 USC
Arizona @ 12 Utah
The race for the PAC is hotting up and after being left out for several seasons there is a good chance that the conference champion will be in the Final Four. Oregon has the best chance but they still have to get past Utah.
American Athletic
19 Tulane 27 @ Tulsa 13
25 UCF 35 @ Memphis 28
Neither has any chance at the playoffs, but the "at large" slot in the Cotton Bowl is still a realistic possibility for both. They meet this week but the loser is not going to be eliminated.
Independents
23 Liberty 21 @ Arkansas 19
The CFP snubbed 7-1 Liberty (unfairly in our opinion) last week. Surely a road win against a then 5-3 SEC team will get them into the top 25? Wake Forest losing again might give them an excuse though.
Not Playing
Ole Miss 
The Rebels missed the carnage and at 8-1 still have a chance at the final four. Still, they will need LSU to lose again and beat Alabama just to make the SEC Championship game. Maybe we should change that to a very remote chance!
Group Of Five
Most of the conferences were still up for grabs going into the week's games headed by…
MAC
Buffalo 24 @ Ohio 45
Western Michigan 9 @ Bowling Green 13
The Mid-Am East is still wide open after these two results. Bowling Green are on a three-game winning streak and still has Ohio to play. In the West Toledo can pretty much sew up their place in the conference final with a win over Ball State this week.
C- USA
UTSA 44 @ UAB 38
Florida International 14 @ North Texas 52
Western Kentucky 59 @ Charlotte 7
UTSA & North Texas look like meeting in the final, although Western Kentucky kept their slim hopes alive with that demolition job on Charlotte. They have lost to the other two this season though so they need a lot of help. Still, it was a great night for Hilltoppers QB Austin Reed who had a career-high 6 TDs.
Mountain West
Hawaii 13 @ Fresno State 55
Fresno now controls its destiny in the MW West. Not bad for a team who were 1-4!
Sun Belt
Appalachian State 28 @ Coastal Carolina 35
Troy 23 @ Louisiana 17
South Alabama 38 @ Georgia Southern 31
Coastal Carolina has secured their place in the Sun Belt Conference Final. If they were to win out there is still a chance they could be playing in the Cotton Bowl which would be a huge feather in the Sun Belts' cap.
They will meet either the Trojans or the Jaguars with Troy being the most likely to get there. They still need one more conference win to be sure.
Entertaining Game Of The Week
Houston 63 @ SMU 77
No, it's not college basketball, although you could be forgiven for making that assumption. We are not sure what the defenses were doing but if you like plenty of passing (907 yards) and overall offense (1352 yards) you are in for a treat! SMU QB Tanner Mordecai had a career night throwing 9 TDs.
On The Up
Notre Dame. They have had a strange season, with ranked wins over Clemson, Syracuse & North Carolina but also one-score losses to Marshall & Stanford. Had they not had the latter they would be in contention for the playoffs. Could they still make a run for a New Year Bowl slot?
The Not Your Day Award Goes To
Houston QB Clayton Tune. It's not often you throw for 527 yards and seven TDs and come out on the losing side. Mind you he has no one but himself to blame for the loss as he threw three picks too, all of which ended up being tuned into  SMU TDs.
One you probably missed
USF 28 @ Temple 54
The two bottom teams in the AAC served up a decent game, highlighted by Edward Saydee rushing for 265 yards and 3 TDs. A great performance but even more notable given he only had 290 yards and 1 TD in his previous eight games!
Still Unbeaten
We are down to The Wire now with only four teams still holding that coveted 100% record.
Big 12
TCU 9-0
Big Ten
Michigan 9-0
Ohio State 9-0
SEC
Georgia 9-0
Still Alive In The CFP
Surprisingly we can still make a case of sorts for 14 teams. Ok, some of these would need the stars to align big time but they are technically still in it. Will this be the year a two-loss team makes the final four?
ACC
Clemson 8-1
North Carolina 8-1
Big 12
TCU 9-0
Big Ten
Michigan 9-0
Ohio State 9-0
PAC 12
USC 8-1
Oregon 8-1
UCLA 8-1
Utah 7-2
SEC
Georgia 9-0
Tennessee 8-1
Ole Miss 7-1
Alabama 7-2
LSU 7-2
LSU suddenly have their destiny in their own hands. Win out and they will be SEC champions with wins over Alabama and probably Georgia in the SEC Final. No way they get left out. The interesting one is North Carolina. They are 8-1 with a loss to now-ranked Notre Dame and are pretty much certain to be playing in the ACC Championship. Would that be good enough to edge out a one or even a two-loss PAC 12 Champion? Probably not but it might be enough to jump ahead of a one-loss TCU. Still, those scenarios are still a way away.
So ends our brief overview of week nine, just in time for the opening CFP rankings.
You can check out our other 2022 Weekly Round Ups here