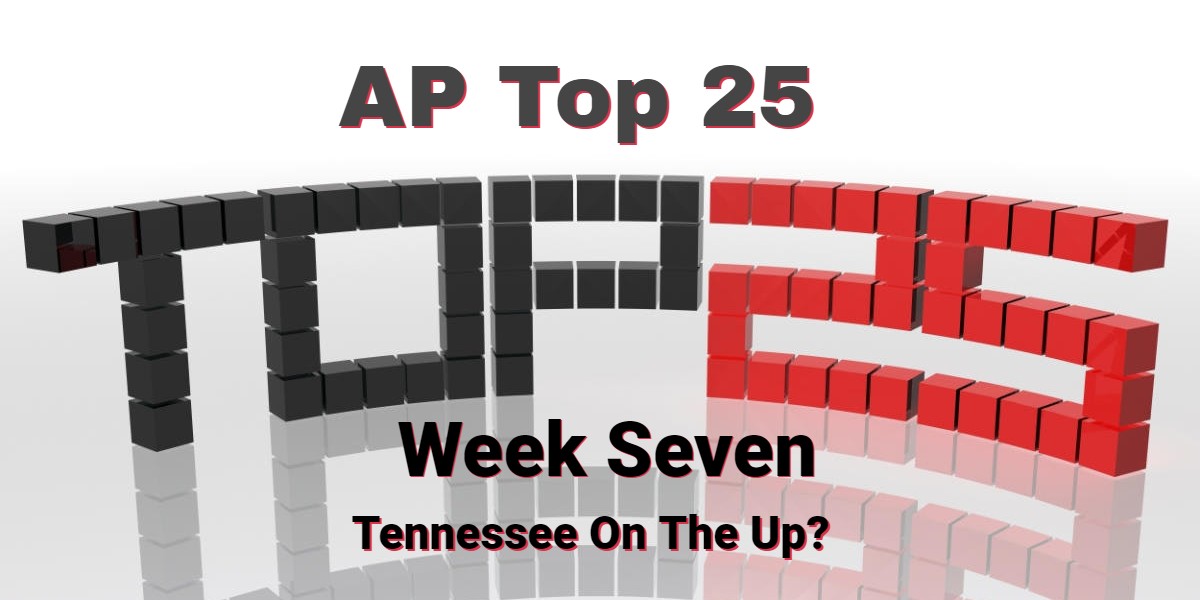 Not a whole lot changed from week six to seven with those top 10 ranked teams playing all winning. The main change here was Clemson leapfrogging Michigan into the CFP places thanks to a routine win over Boston College. This no doubt caused some contention with Wolverines fans, however, we view it as fair enough given the Tigers have wins over the current No14 & No 15 teams. Currently Michigan doesn't have a ranked win (or a win of any note to be fair).
Making a Statement
Tennessee had a very impressive win at No 25 LSU and suddenly (we can't believe we are saying this) the Volunteers could be genuine CFP contenders. They host Alabama this week and if Bama plays like they did last week then who knows?
UCLA like Tennessee got no pre-season love but they are 6-0 and have beaten ranked teams in both of their last two games. They travel to Oregon this week in what looks like a pivotal game for both.
Welcome To The Rankings
Two new arrivals this week with Illinois giving the Big Ten a bit of a boost. They look just about the best of a bad B1G West but with a relatively easy schedule ahead they might just make it into the Conference Final.
The second new arrival is much more interesting. Welcome newcomers James Maddison. By newcomers, we mean new to the FBS having just step[ped up this year. They have made light work of the move so far and thoroughly deserve their moment in the spotlight.  They are not Bowl Eligible this year which is a shame as right now they are one of only two Group of Five teams ranked. It would have been great to see them in an NY6 bowl.
Texas has returned following its demolition of Oklahoma in the "Red River Showdown". They are arguably the best 4-2 team with both losses being by a combined 4 points including by one to Alabama. With four currently franked teams left on their schedule, they could still make it to a big bowl if they were to win out.
On The Cusp
With three 4-2 teams ranked the likes of Notre Dame must be fancying their chances at a return. They have recovered from their poor start and knocked off No 16 BYU last week. That coupled with a good win over North Carolina should have put them in. They seem to be being a bit harshly treated for that Marshall loss.
Anyway, the week sevens rankings are below…
AP Top 25 Rankings Week Seven
No.1 Georgia 6-0
No.2 Ohio State 6-0
No.3 Alabama 6-0
No.4 Clemson 6-0
No.5 Michigan 6-0
No.6 Tennessee 5-0
No.7 USC 6-0
No.8 Oklahoma State 5-0
No.9 Ole Miss 6-0
No.10 Penn State 5-0
No.11 UCLA 6-0
No.12 Oregon 5-1
No.13 TCU 5-0
No.14 Wake Forest 5-1
No.15 NC State 5-1
No.16 Mississippi State 5-1
No.17 Kansas State 5-1
No.18 Syracuse 5-0
No.19 Kansas 5-1
No.20 Utah 4-2
No.21 Cincinnati 5-1
No.22 Kentucky 4-2
No.22 Texas 4-2
No.24 Illinois 5-1
No.25 James Madison 5-0
All Change
In – Texas, Illinois & James Madison
Out – BYU, Washington & LSU 
Conference representation
SEC 6
Big 12 5
ACC 4
Big Ten 4
PAC-12 4
AAC 1
Sun Belt 1
You can check week sixes rankings here