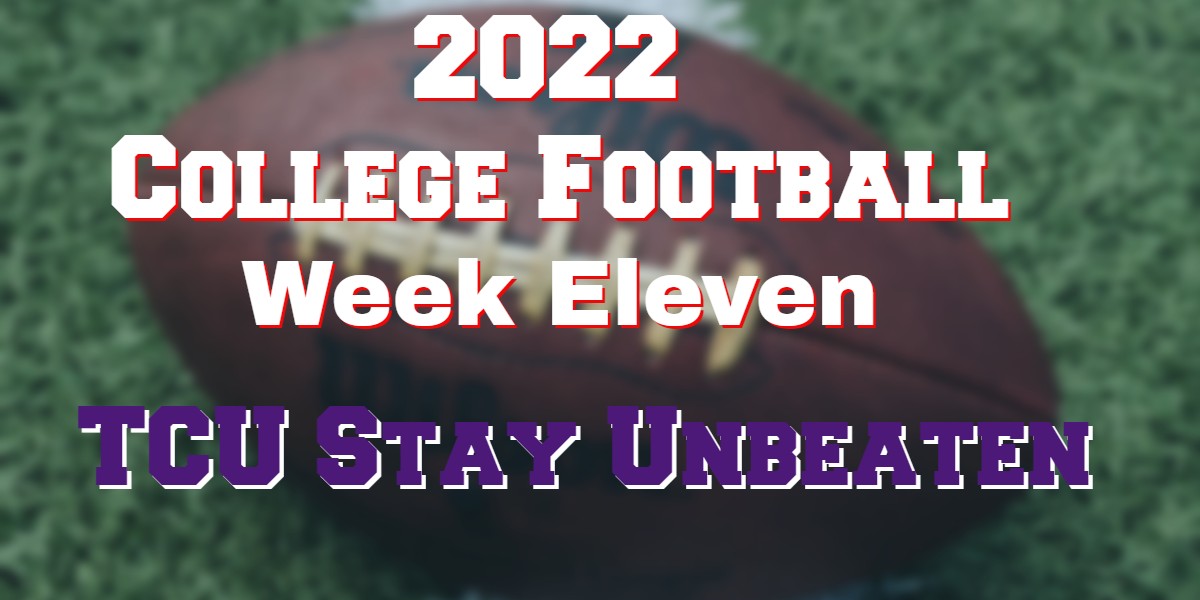 Week Eleven looked like being a bit routine, however, it turned out anything but, with the Pac-12 and Big Ten West being thrown into turmoil. Two weeks ago Illinois looked nailed on for the division, but a second consecutive loss means they are now outsiders for it. A couple of shocks in the PAC 12 have also changed the dynamics there and they are in danger of losing out on a CFP place.
Anyway here are some of the weekend highs & lows…
The Winners
The SEC & The Big Ten East. Georgia & Tennessee both won potentially trap games with considerable ease and LSU clinched the SEC West with a hard-fought win at Arkansas. This has greatly increased the chances of at least two of these making the final four and with the right permutation, you could make a case for an 11-1 Tennessee a 12-1 Georgia, and an 11-2 SEC Champion LSU all getting in!
Conversely, the two teams in arguments are just as relevant for the Big Ten given Penn State continues to frank the form of the big two. It is very likely that both Michigan & Ohio State end up at worst 11-1. That would be a loss to the other and they would both have a good win over a possibly top 12 Penn Stae on their resume. That could be enough if there is a bit of turmoil in the SEC between now and then.
Lastly on the winner rostrum is TCU who have moved to 10-0 with a battling performance. They were facing criticism regarding their defense but that argument is now much weaker. They still have to beat Baylor and Iowa State to finish the regular season unbeaten, but on this showing that looks likely.
Not So Good
The PAC -12s chances of getting a team into the final four for the first time since 2016 took a dive this weekend. Losses for Oregon and UCLA have left USC as the only single loss team in the conference. A two-loss PaAC champion is unlikely to make the final four and USC has a tough road ahead of them.
The Big Ten West. Right now Purdue is heading the division at 4-3 alongside Illinois, Iowa & Minnesota. Wisconsin at 3-4 could also still win it if the stars align for them. What a mess!
Anyway, the AP top 25 results are below:
All Ranked Games
No.4 TCU 17 @ No.18 Texas 10
No.9 Alabama 30 @ 11 Ole Miss 24
No.25 Washington 37 @ No.6 Oregon 34
No.22 UCF 38 @ No.17 Tulane 31
ACC
Louisville 16 @ No.10 Clemson 31
No.15 North Carolina 36 @ Wake Forest 34
Boston College 21 @ No.16 NC State 20
No.23 Florida State 38 @ Syracuse 3
Big Ten
Indiana 14 @ No.2 Ohio State 56
Nebraska 3 @ No.3 Michigan 34
Maryland 0 @ 14 Penn State 30
Purdue 31 @ No.21 Illinois 24
Big 12
No.19 Kansas State 31 @ Baylor 3
PAC 12
Colorado 17 @ No.8 USC 55
Arizona 34 @ No.12 UCLA 28
Stanford 7 @ No.13 Utah 42
SEC
No.1 Georgia 45 @ Mississippi State 19
Missouri 24 @ No.5 Tennessee 66
No.7 LSU 13 @ Arkansas 10
Vanderbilt 24 @ 24 Kentucky 21
Independents
No.20 Notre Dame 35 @ Navy 32
Liberty 33 @ Uconn 36
The Race For The Cotton Bowl
UCF is now in pole position thanks to their win at Tulane. If they win the Conference final they will be back in a New Year Bowl for the first time since 2018 when they lost in the Fiesta Bowl to LSU after another unbeaten regular season.
Right now though the race is still wide open though with Tulane, Cinncinati, Houston & SMU still in the race. The final race is going to be compelling viewing for the neural fan.
Group of Five Divisional Battles
Still a bit of interest here and always the chance that the likes of Coastal Carolina or even UTSA could edge out the AAC champion for the Cotton Bowl place.
C- USA
Rice 10 @ Western Kentucky 45
Louisiana Tech 7 @ UTSA 51
North Texas 21 @ UAB 41
Florida Atlantic 52 @ Florida International 7
UTSA is officially in the C-USA conference final. They are 6-0 in C-USA play and have the head-to-head over any team that can tie their record. The second place is still up for grabs with Florida Atlantic suddenly in the picture following North Texas's loss. The Owls would need to win out and hope NTU loses to Rice. Not impossible.
Mountain West
Boise State 41 @ Nevada 3
Wyoming 13 @ Colorado State 14
Fresno State 37 @ UNLV 30
The Mountain West is not quite settled yet, however, Wyoming's loss has left them with a Mountain to climb (ok bad pun).  If Boise & Fresno win next week they will play in the conference final.
Mid AM
Ball State 21 @ Toledo 28
Ohio 37 @ Miami (OH) 21
Toledo clinched the MAC West with this win and will most likely face Ohio in the conference final. The Bobcats can clinch the other final place with a win at Ball State next week.
Sun Belt
Southern Miss 23 @ Coastal Carolina 26
Texas State 21 @ South Alabama 38
Coastal Carolina has clinched the Sun Belt East and at 9-1 might even sneak into the CFP rankings next week given the carnage at the lower end of the rankings. South Alabama kept their hopes of meeting them alive with a solid win. They would need Troy to lose a game though.
On The Up
Arizona debuted eight true freshmen in their excellent road win over UCLA. That itself bodes well but QB Jayden de Laura also looked mighty impressive and hopefully, he will stay for his senior year. The Wildcats probably won't make a bowl game now but they definitely look like a team to watch out for next year.
The Not Your Day Award Goes To
Utah State 41 @ Hawaii 34
Hawaii had 541 yards of offense and 27 first downs but lost largely due to giving up 4 turnovers. Utah State made good use of them effectively sealing the game with a pick-six late in the fourth quarter.
One you probably missed
Army 9 @ Troy 10
It was fitting that Carlton Martial became the NCAA all-time leader in tackles in a defensive slugfest. He finished the game with 22 tackles and in doing so notched up his 546th. This broke the FBS career record of 545 set by Northwestern's Tim McGarigle who played between 2002-05.
Still Unbeaten
We still have four unbeaten teams and they are likely to fill the CFP places this week, Michigan & Ohio State meet in their final regular season game so that one will be for all the marbles so to speak.
Big 12
TCU 10-0
Big Ten
Michigan 10-0
Ohio State 10-0
SEC
Georgia 10-0
Still Alive In The CFP
Surprisingly we can still make a case of sorts for 14 teams. Ok, some of these would need the stars to align big time but they are technically still in it. Will this be the year a two-loss team makes the final four?
ACC
Clemson 9-1
North Carolina 9-1
A 12-1 Conference Champion is in with a chance, but a two-loss one has little chance. They are going to meet in the ACC final so both need to focus on not losing before then.
Big 12
TCU 10-0
The Horned Frogs need to win out given the next-best team in the conference is currently 7-3.  They might sneak in as a 12-1 conference champion but given the SEC & Big Ten bias probably not
Big Ten
Michigan 10-0
Ohio State 10-0
The conference champion is in even with one loss. Either of them at 11-1 has a chance of being the fourth seed.
PAC 12
USC 9-1
A two-loss Pac-12 Champion is not getting in in our opinion so this leaves USC as their last great hope. They will need to win out and with their regular season games remaining being Notre Dame and UCLA, that's no gimmie.
SEC
Georgia 10-0
Tennessee 9-1
LSU 8-2
LSU has to win the conference championship. The CFP is not leaving the SEC champ out even with two losses. If Georgia wins it then Tennessee has a shot at the No four slot.
So ends our brief overview of week nine, just in time for the opening CFP rankings.
You can check out our other 2022 Weekly Round Ups here