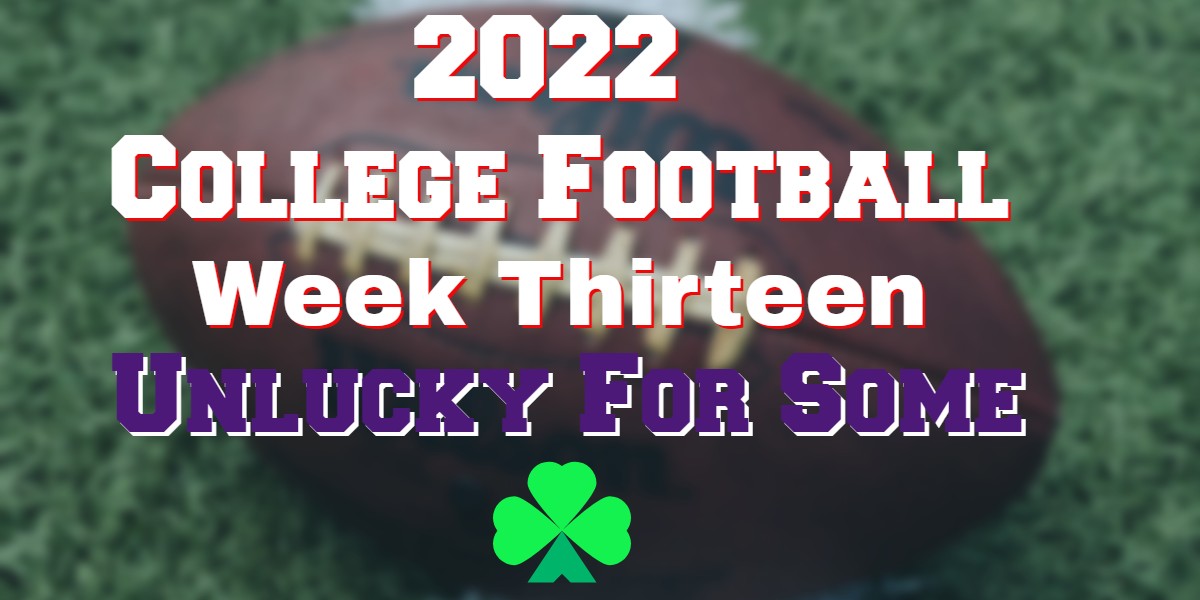 Week Thirteen and realistically we are down to any four from seven for the CFP playoffs. Currently, the top four in the rankings are all unbeaten, however, that is certain to change this week as Ohio State & Michigan meet. The winner will advance to the Big Ten Championship game where they will be heavy favourites. Overall though it is still quite open and the weekend will no doubt see some twists and turns before it is out.
Anyway below are the games to look out for…
ACC
South Carolina @ No.8 Clemson
Pittsburgh @ Miami
With the ACC final places long decided the main interest lies in whether Clemson can remain undefeated in conference play. They could still make the playoffs but a loss to South Carolina would put pay to their chances.
Miami was ranked 16 in the opening AP Poll, however, after winning their opening two games things went downhill big time. They need to win this one to get bowl eligible.
Big Ten
No.3 Michigan @ No.2 Ohio State
Nebraska @ Iowa
Purdue @ Indiana
Michigan State @ No. 11 Penn State
Both places in the Big Ten Conference Final are still up for grabs with the action starting on Friday Night. Iowa will clinch the West with a win. That would be some recovery after they looked out of it at 3-4 mid-season. Should they lose then the door will be open for Purdue who trail the Hawkeyes on Head-to-Head. If both these two lose it could get very messy as five teams could theoretically tie at 5-4. We will leave the sorting of that to the tie-break team.
The East will go to the winner of the Wolverines @ Buckeyes game and with it a near certain CFP playoff place.
Penn State will hope to clinch a New Years' Bowl Berth with a win, however, the Spartans still need this one to become bowl eligible so should be up for it.
Big 12
Iowa State @ No.4 TCU
Baylor @ No.23 Texas
Kansas @ No.12 Kansas State
TCU are already in the Big 12 Championship game but needs to stay unbeaten to keep the pressure on the CFP Committee. They will play Kansas State if the Wildcats win or Texas loses.
PAC 12
No.15 Notre Dame @ No.6 USC
No.9 Oregon @ No.21 Oregon State
No.13 Washington @ Washington State
USC are in the Conference Final already but needs to beat Notre Dame to have any chance of making the final four.  Oregon has a tricky trip to neighbours Oregon State but a win will see them take the second berth. Washington could still sneak in if they win the Apple Cup and the Ducks lose.
SEC
Georgia Tech @ No.1 Georgia
No.5 LSU @ Texas A&M
Arkansas @ Missouri
Auburn @ No.7 Alabama
No. 10 Tennessee @ Vanderbilt
The final has been set for a couple of weeks now, but both Georgia & LSU both still need to win this weekend.  A two-loss Georgia would probably miss out while a three-loss LSU would for definite.
Missouri needs a win to become Bowl eligible, as does Auburn & Vanderbilt. Tennessee could see their once so-promising season evaporate with a loss at the Commodores. However, a win would give them their first 10-win regular season since 2003. They will have to do it without QB Hendon Hooker though as he is out for the remainder with a torn ACL
Group Of Five Divisions
American
No.19 Tulane @ No.24 Cincinnati
No.22 UCF @ USF
The CFP Committee have pretty much decided that the Cotton Bowl place is going to the AAC Champion. This adds a bit of spice to Friday's clash between Tulane & Cincinnati with the winner getting the home-field advantage in the final.
UCF will play the winner assuming they get past their state rivals. However, if the Bulls pull off the shock Tulane & Cinncinati will meet again for the covered New Year Bowl slot.
C- USA
UTEP @ UTSA
Rice @ North Texas
Western Kentucky @ Florida Atlantic
UTSA are already in the Conference Final but will be looking for another 10-win regular season. They will play either North Texas, who is in with a win or WKU who could sneak in with a win and a  Mean Green loss.
Mid American
Bowling Green @ Ohio
Ball State @ Miami (OH)
Kent State @ Buffalo
Bowling Green's excellent win at Toledo last week means that they can still reach the conference final with a win. That would set up a rematch with The Rockets and a repeat of last week's game in the final would be compelling to watch.
The interest doesn't end there though as Both Ball State and the Redhawks need to win this one to get to six wins and a probable bowl game. Ball State looked like challenging for the MAC West for much of the season. However, they have lost 3 of their last four conference games which put pay to that. It will be a disappointing year for them if they end up sitting out in December.
Buffalo's game against the Zips was postponed last week but they can still make bowl eligibility with a win against Kent State.
Mountain West
Nothing to see here! Boise & Fresno are already set to meet in the Mountain West Final, and no other team can become bowl eligible with a win.
Sun Belt
Troy @ Arkansas State
Old Dominion @ South Alabama
Coastal Carolina's game with Virginia was called off last week due to the tragic shooting that took place there. They will face either Troy or South Alabama. Troy is in with a win as they have the head-to-head over the Jaguars.
That completes our quick look at what's on offer in week twelve. Before you go why not check out our Week Twelve roundup and check back next week for the results of the conference finals.