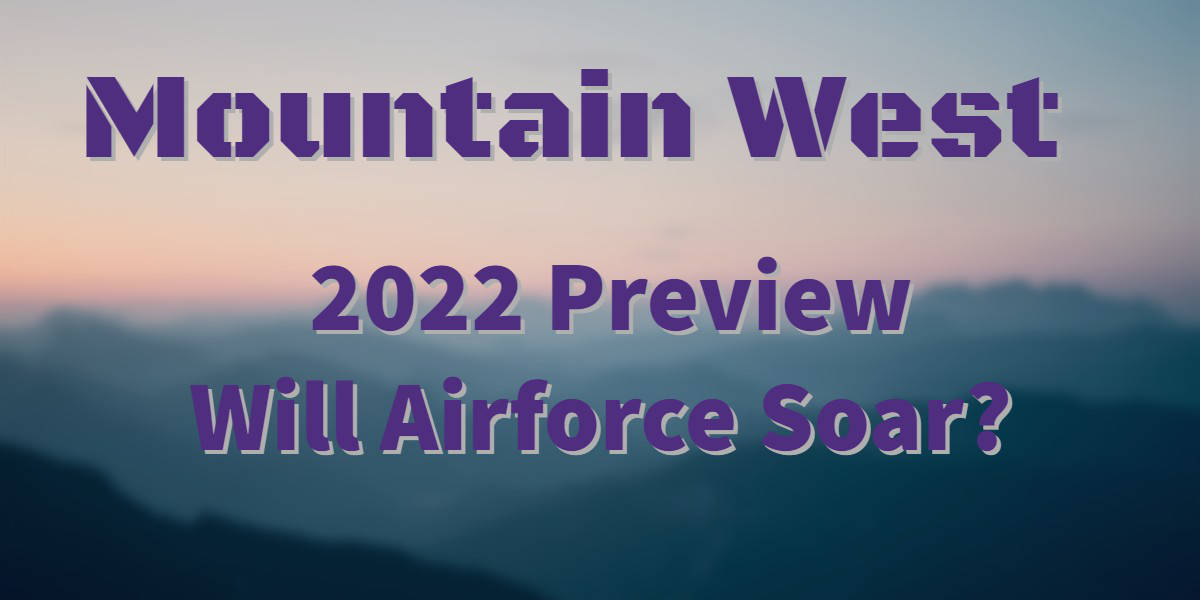 The Mountain West was a hard-fought conference in 2021 with eight of the twelve teams finishing bowl eligible.  A repeat of that is possible, however, we think realistically only five teams have a shot at the conference title.
Several teams are in transition and in some cases, hardly any 2021 starters are returning.
MW East
The East looks the more competitive of the two going into 2022 and any one of three could realistically win the division.
Air Force has been very good of late and has 15 starters returning from a team that went 10-3 last year. Those three losses were all one-score affairs and the conference losses were against the two divisional winners. Turnovers cost them both games and if they can sort that out then they should just nick the division.
Boise State will be better now that coach Andy Avalos has had a year to get to know the team. Finishing 7-5 was not what the Boise fans are used to but getting three of their biggest rivals at home this year is a help. They have to go to Airforce and that's the game we think will decide the division ultimately.
Utah State won the conference title last year and is returning a few key players headed by Quarterback Logan Bonner. They have lost a lot of the offense so much will depend on how well the new players adjust. They have added a couple of interesting transfers too but their road schedule is tough and that might just catch them out.
The remaining three are in varying degrees of rebuild or have had significant coaching changes and we are struggling to find a scenario where any of them make a bowl game in 2022.
MW West
Next up is the West and it looks a little less competitive than the east this year.  and we think that Fresno is capable of stepping up from their 10-3 season last year, despite losing their head coach. Jake Haener is back at QB which is a huge bonus, plus a lot of his offense is returning too. They have to travel to Boise but miss both Airforce & Utah State in the cross-divisional games.  Ten Wines looks possible and with it a place in the conference final.
San Diego State won the division in 2021 but they may struggle to repeat this given they have lost a few key players. They also went 6-0 in one-score games and this seems to have a habit of evening suits self out the following season. They have three tough road games too, including at Fresno which might prove decisive.
Of The remainder, The Spartans are the only one likely to reach bowl eligibility.
Our predicted finishing order and wins total is below…
Mountain West 2022 Predicted Finish
East Division
Air Force Falcons 10-2
Boise State Broncos 9-3
Utah State Aggies 9-3 
Colorado State Rams 5-7
Wyoming Cowboys 4-8
New Mexico Lobos 3-9
West Division
Fresno State Bulldogs 10-2
San Diego State Aztecs 8-4
San José State Spartans 7-5
Nevada Wolf Pack  5-7
UNLV Rebels 4-8
Hawaii Rainbow Warriors 3-9
Mountain West Champions?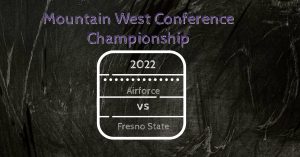 We are giving the edge to Airforce whose strong running game should give them the edge. They may even end up ranked in the Top 25 but are unlikely to get the G5 "at large" bowl bid. Before you go check out our other college football posts.