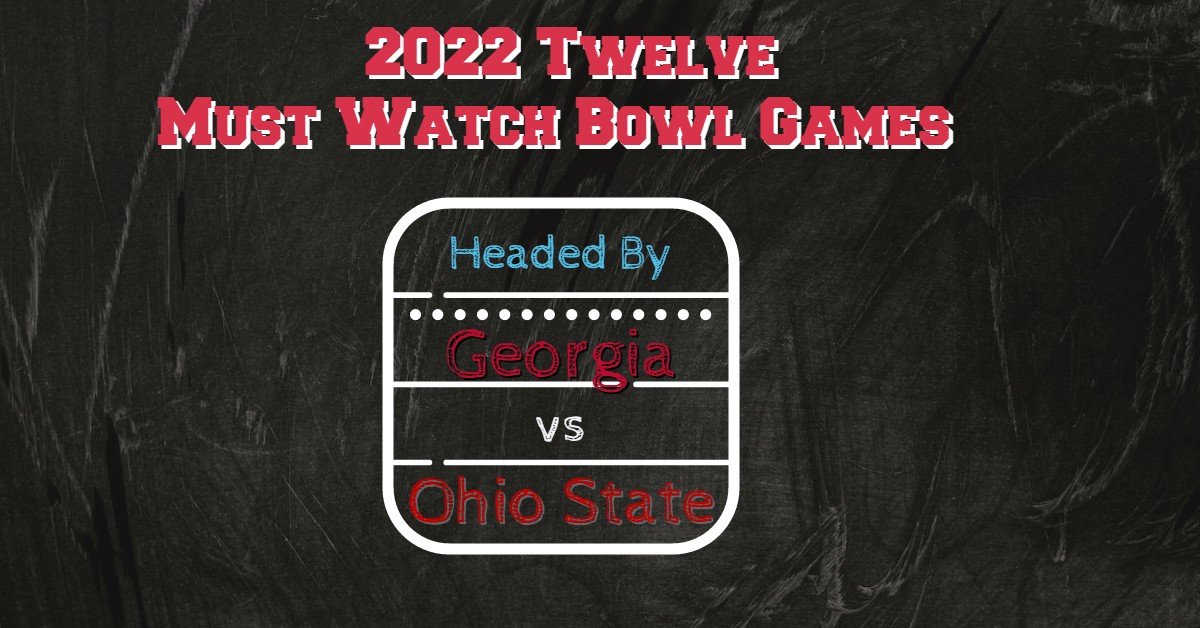 Bowl Season Kicks off tomorrow and although we intend to watch as many as possible fitting all of them in is nigh on impossible. However, the twelve below are ones which shouldn't be missed. Get the beer and pizza ready for…
12. Liberty Bowl: Arkansas vs. Kansas
When Wednesday, Dec. 28, 5:30 p.m. 
Why…
To See Kansas in a Bowl Game is the main reason. You have to go back to 2008 to find their last appearance (which they won). They were the big surprise of the season, well through five games anyway! However, a 1-6 finale sort of took the gloss off a bit. Much of that was down to QB Jalon Daniels getting injured but there is a good chance he will be back for this one.
Arkansas also started well before fading, however, they had a pretty tough schedule and their last three losses were by a total of seven points! It's not often we get excited about two 6-6 power five teams meeting, but this one looks closely matched and should go down to the wire.
11. Sugar Bowl: (5) Alabama vs. (9) Kansas State
When Saturday, Dec. 31, 12 p.m.
Why…
This would be on our top 4 if we thought there would be no opt-outs. Sadly it looks likely that Alabama will be without star QB Bryce Young and top defender Will Anderson, who are both heading for the NFL draft. Undoubtedly a few more will drop out too making it a lot less interesting.
Still, we will get to see some of Alabama's future starters and of course, Kansas State is a decent team too. The Wildcats won the Big 12 Championship and will be keen to finish on a high. They are on a hiding to nothing though. Win and everyone will point to the opt-outs, lose and they will be panned for failing to beat a depleted Tide. Whatever we think its well worth a watch.
10. Gator Bowl: No. 21 Notre Dame (8-4) vs. No. 19 South Carolina (8-4)
When Dec. 30, 3:30 p.m.
Why…
Both teams are in great form having recovered from shakey starts.  We also want to see who starts at QB for Notre Dame given Drew Pyne has already entered the transfer portal. Tyler Buchner who was their day one starter should be fit, so perhaps we will see him suiting up.
The Gamecocks were a model of inconsistency this year, however, they came good at the end with two huge wins. QB Spencer Rattler was a little harshly disposed of by Oklahoma and has the chance to finish his college career on a high having beaten Tennessee and Clemson in his last two games. In both cases, the wins effectively killed off those teams' CFP aspirations. Both of these will want this one badly.
9. Orange Bowl: (6) Tennessee vs. (7) Clemson
When Friday, Dec. 30, 8 p.m.
Why…
Well if for no other reason than because this is an orange bowl! Both teams famously play in Orange but they will no doubt be in their alternative uniforms. Shame as it would have been fun watching the officiating otherwise. Anyway frivolities aside this is a matchup of two top-ten teams, both of whom were in the CFP hunt right up to the last couple of weeks.
Sadly the Volunteers will be missing QB Hendon Hooker, but it is a chance to see Joe Milton in action. Their offense was sensational at times last year so he should do ok.  Clemson's season has been driven by their defense and it will be key for them again. We will be keenly watching freshman quarterback Cade Klubnik who is set to start.  He looked good in the ACC Championship game and could be special. He was a 5-star recruit and is set to be their starter in 2023.  This could end up being quite a high scoring one if both QBs live up to their billing.
8. Alamo Bowl: (20) Texas vs. (12) Washington
When Thursday, Dec. 29, 9 p.m. 
Why…
Well, there are two great QBs for a start and then add a bit of a coaching link and the fact both came oh so close to their respective conference finals. QB-wise we have Washington's Michael Penix Jr. who has had a stellar season. He has averaged just under 363 yards passing per game and threw for 29 TDs with only 7 interceptions. He is coming back for 2023 so will be fired up for this one especially as the Huskies missed the PAC 12 Final despite having more wins than Utah!
Texas also just missed out on the Big 12 Final and looks to have found their starting QB for the foreseeable future in Quinn Ewers. Their coach Steve Sarkisian used to be at Washington, so he will be keen to put one over on his former employers and in doing so stop the Huskies from getting to 11-2 which would be their best record since 2016 when they made the CFP.
7. LA Bowl: Washington State vs. Fresno State
When Saturday, Dec. 17, 3:30 p.m.
Why…
Washington State looks like a team on the up. It has taken them a bit of time to adjust to Mike Leech leaving, but they are not far off competing in the PAC again. They lost five conference games but these teams are all currently ranked in the top 15 and the losses to Utah & Oregon were one-score affairs.
Fresno State had a poor start but has won its last eight games, including gaining revenge over Boise State in the MW Conference Final.  They will be full of confidence but this is a different level opponent to what they have been playing.
Can the Bulldogs finish on a high?
6. Holiday Bowl: (15) Oregon vs. North Carolina
When Wednesday, Dec. 28, 8 p.m.
Why…
These two teams are so similar both can score for fun, but can't stop the opposition from responding in kind. Both had the chance to push for New Year's Bowl games but late-season losses put pay to that. If things go to plan we could see a close game and a huge score in this one.
5. Cure Bowl: (24) Troy vs. (25) UTSA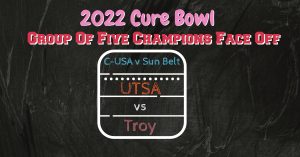 When Friday, Dec. 16, 3 p.m. 
Why…
It's a classic G5 clash of Conference Champions. UTSA finished 11-2 this season to win C-USA for the second year running and are 17-1 in conference games over the last two seasons! They have a couple of offensive stars in the making –  Frank Harris &  Zakhari Franklin both of whom should be NFL players in due course.
Troy also finished 11-2 this year in HC Jon Sumrall's first season in charge. Quite a turnaround. The Trojans' success is built on their defense so this should be a classic clash of styles between two of the better Group of Five Teams. Troy will need turnovers to win but can their defense get them?
Not enough? Well, it's also a rare Conference Champ vs Conference Champ meeting outside of the New Year's Bowl games.
4. Cotton Bowl: (10) USC vs. (16) Tulane
When Monday, Jan. 2, 1 p.m.
Why…
It's the Group of Fives "At Large" Bowl. The Green Wave won the AAC largely due to their excellent pass defense. But how will they cope with the high-octane looks they will face from USC? QB Caleb Williams and his offensive entourage can certainly rack up the points.  It would be worth watching just for that, however, given the Trojans can't stop either the run or the pass this one will be high scoring and quite close. Tulane is one of this season's fairy tale teams – 2-10 last year and overlooked pre-season. Can they finish the story with a happy ending?
3. Rose Bowl: (8) Utah vs. (11) Penn State
When Monday, Jan. 2, 5 p.m.
Why…
It's the Rose Bowl Nuff Said. Not enough for you? Ok, then how about this being Utah's second successive appearance in it and they are playing a Penn State side that was unlucky enough to have two of the final four in their division this year!
So we have two great teams one of which is looking for a near-unprecedented repeat, against one with a bit of a chip on its shoulder. Plus they have a QB who will be looking to finish his college career on a high. Sean Clifford knows he will need a strong showing here if he is to be picked before day three in the 2023 draft.
2. Fiesta Bowl: (2) Michigan vs. (3) TCU
When Saturday, Dec. 31, 4 p.m.
Why…
Well, it's for a place in the CFP Final for starters. Then of course it features two teams who can run the ball really well. This should be a bit of a ground & pound affair, but they can often be the best games to watch. TCU sort of rode their luck in the regular season but came unstuck in the Big 12 Final and are justifiably underdogs. However, this could be closer than the spread suggests. Can TCU maintain its fairy tale run we think they might!
1. Peach Bowl: (1) Georgia vs. (4) Ohio State
When Saturday, Dec. 31, 8 p.m.
Why…
If you can't get excited about watching QB C.J. Stroud and Ohio State's receiving corps going against one of the best defenses in college football, then you are really hard to please. It's a Champ v Champ with both teams winning their respective conferences and you can be sure no player will opt out of this one!
Ohio State's loss to Michigan looked one-sided, however, it was close until that 4th quarter collapse. They can light up the scoreboard and only failed to put up 40+ points on three occasions in 2022. It's worth bearing in mind that they put up 492 yards of offense in the loss to the Wolverines!
Georgia is 13-0 but has not always been dominant. They won the SEC Final easily enough but did give up 30 points and 502 yards passing in doing so! If the Buckeyes can avoid turning the ball over this one could be very exciting and could go down to the wire.  It's precisely the kind of match-up you dream of when watching college football.
So there we have it our top 12 bowl games. Will they all be great – probably not but we are sure a fair few will be classics.